Hi! I have a Series 2 E Type FHC which I purchased 18 years ago. I live in West London, not too far from the Jag Workshop in Ealing Broadway. I have a problem at the moment in that having replaced my clutch and reinstalled the engine/gearbox the gearbox is jammed solid. As far as I can see the two selectors underneath the gearstick have moved nearer the rear, i.e. they do not line up with the reverse inhibitor. It seems as if the box is stuck in 1st and 3rd? Is there anything I can do to free the box up without having to take the whole lot back out again???? Any thoughts would be much appreciated. Thanks.
Steve
1968 Series 2 UK FHC 1R20020
---
---
Can you post a picture of how the selectors line up on the top of the gearbox? It would help with diagnosis.
Regards
Steve
S 1.5 FHC
---
---
Steve
1968 Series 2 UK FHC 1R20020
---
---
Posts: 1053
Joined: Tue Jun 07, 2016 8:26 pm
Location: Boston UK
I bet you will get away with just removing the top f the box in situ. Takes half an hour to get there.
This happened to me once, from memory two gears had been selected at the same time after mis-installation.
Purchase a new gearbox top gasket now. Consider doing you o -rings as well (the ones around the selector forks that go hard when they are 50 years old).
Remove-
The Knob
Radio console
Center console (handbrake up)
Pull back the Center Carpet
Gearbox Cover off
Gearbox Breather pipe off
Unbolt the gear box top lift away.
Check your detent springs and ball bearings.
You should now have a clear view of the inside of your gearbox now. Good time to top it up.
So with the top off, you should be able to move the synchro-hubs and gears with a screwdriver until you get neutral and then reassemble.
The gearbox top is re-fitted with the gearbox in neutral and the gear stick in the neutral position.
FYI when I switched to the "recommended" Redline MT90 gear oil, I lost my 2/3rd gear synchro. It was only when I drained it and went back to the thick old stuff (EP80/90) that all was well again.
Guess it depends how worn you synchro hubs are.
Have a look. My box changes beautifully.
James

L.J.K. Setright was right.
"You just cant beat a good E-type"
---
---
That's very helpful. Thanks! Will check it out tomorrow and will update.
Steve
1968 Series 2 UK FHC 1R20020
---
---
Looks like you do have two gears engaged simultaneously. It should be possible to use a lever or strong screwdriver to return the selectors to neutral without removing anything else. The gap in the selectors needs to be alongside the spring loaded reverse plunger (the round one), so you need to move each of the two selectors forward.

You should be able to move them one at a time without significant effort or force. If it takes a lot of effort, there's something else amiss.
Regards
Steve
S 1.5 FHC
---
---
OK. Thanks for that. Before removing the top I will try what you suggest.
Steve
1968 Series 2 UK FHC 1R20020
---
---
I'll have a quick look at my selector position this morning. If you pm me a phone number I could give you a call.
Regards
Steve
S 1.5 FHC
---
---
Looks like the selector rods are jammed. They will not move to line up correctly.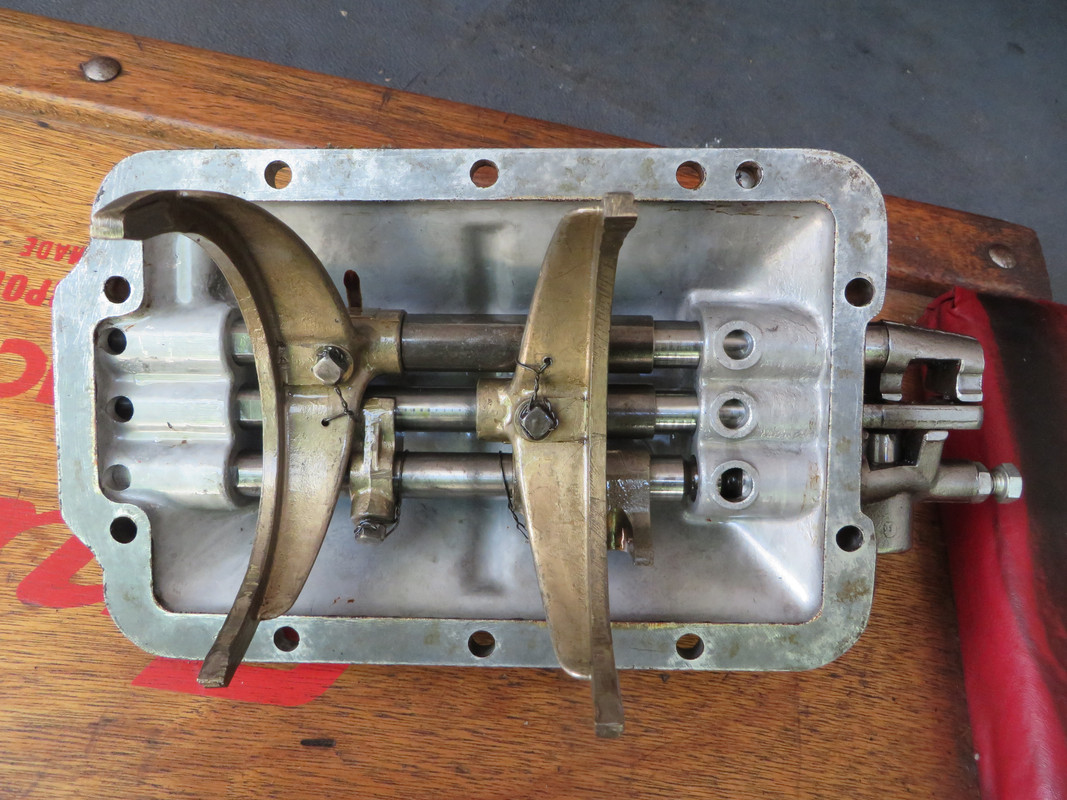 Steve
1968 Series 2 UK FHC 1R20020
---
---
Looking at the first picture, if you were able to move the 1/2 and 3/4 selector rods forward to line up with the reverse plunger they would be hard up against the casting, allowing no further forward movement to select 2nd or 4th. Are you sure they are not actually in the neutral position and it is in fact reverse that is in the selected position ? Though why that should jam the gearbox I don't know.
Brian

1969 S2 FHC 1R20267
1960 Austin Healey 3000
---
---
This shows the selector forks in the neutral position.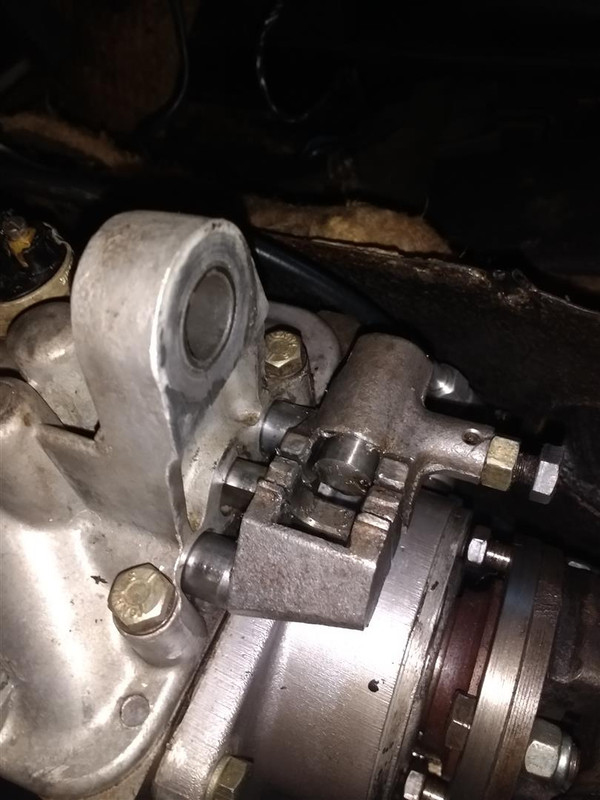 Regards
Steve
S 1.5 FHC
---
---
I am very pleased to say the problem is now sorted at last. Close inspection of my first photo shows that it was the reverse gear selector that was the one that was jammed. Took it to Chris at the Jag Workshop and he spotted and sorted it out straightaway with the screwdriver. Result!
Steve
1968 Series 2 UK FHC 1R20020
---
---