Topic author

dal2.0litrefrogeye

Posts: 844
Joined: Fri Aug 06, 2010 10:48 pm
Location: sarf london
Contact: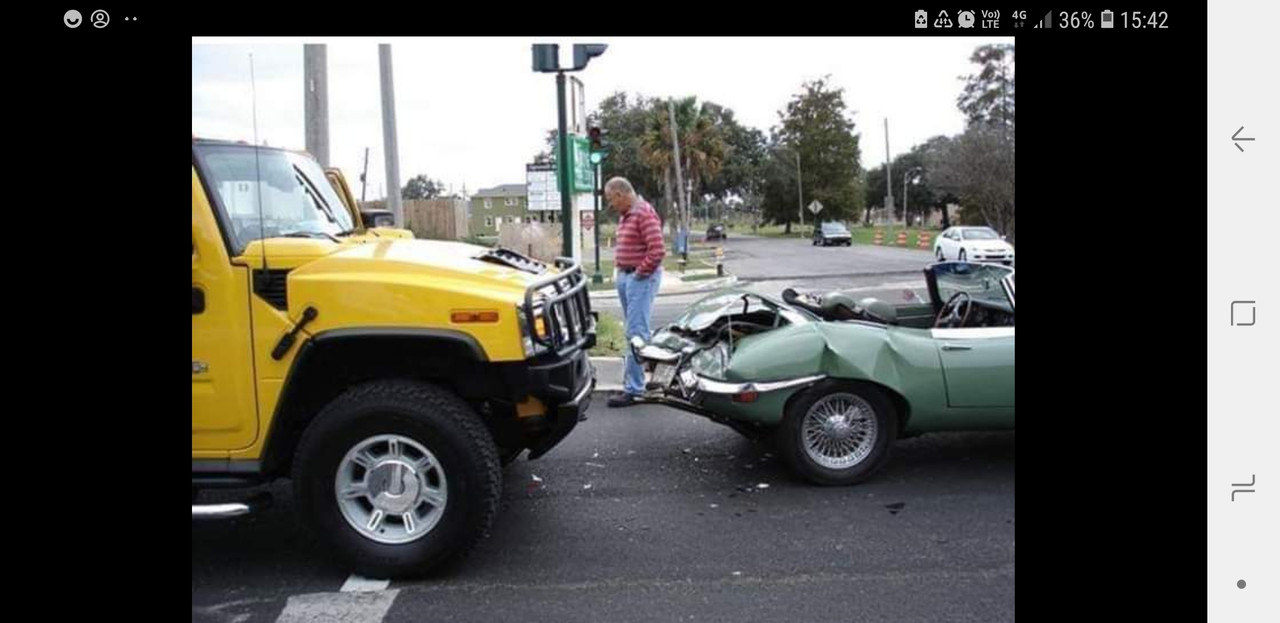 Not good to see . But the door gap still seems reassuringly parallel ....... fingers crossed
Its a way of life not a hobby
Darren . 64 4.2 modded 69 4.2
---
---
Posts: 4007
Joined: Fri Mar 05, 2010 8:22 pm
Location: Gaithersburg, Maryland.
Contact:
The B-post door gap looks much narrower at the top than the bottom. The may even be true of the A post. Bent chassis rails and probably sills.
1E75339 UberLynx D-Type; 1R27190 70 FHC; 1E78478; 97 XJ6L
---
---
Posts: 60
Joined: Mon Apr 09, 2012 2:44 pm
Location: Birmingham, AL
I might be mistaken, but I think that is a pic from several years ago of a J-L lister. I think Terry Lippincott fixed it.
Craig
'68 E-Type FHC
---
---
Posts: 722
Joined: Thu Mar 13, 2008 7:23 pm
Location: Thousand Oaks, California
I first saw it this morning on Facebook. Very sad. Another large SUV in the hands of someone preoccupied with everything but driving. It'll be interesting to see if a mobile phone was a factor. This has become an epidemic in the U.S. Hopefully, the offending Hummer driver has sufficient coverage.
Mark (Moe) Shipley
Former owner '66FHC, #1E32208
Former owner '65FHC, #1E30036

Planning on getting E-Type No. 3 as soon as possible....
---
---
Yes,

all that extra equipment in a car should be left away. It only distracts you from your mobile phone !

Carsten
Jag E '66 S1 2+2, Citroen DS 23 Pallas iE, Citroen SM 3.0, Concept Centaur MK1, Citroen 11 BL '54, Sinclair C5, Velosolex
---
---
Posts: 880
Joined: Thu Feb 02, 2017 12:26 pm
Location: Shropshire
They should ban airbags and replace them with a steel spike in the centre of the steering wheel. That might make us all drive more carefully.
Stuart

If you can't make it work, make it complicated!

'62 FHC - Work In (slow) Progress
'69 Daimler 420 Sovereign
'94 X300 XJR basket case
---
---