Interesting stuff to read and watch:
https://youtu.be/-F4qTZGq7II
https://wolfstreet.com/2019/09/22/asset ... no-crisis/
https://www.bloomberg.com/news/articles ... collectors
https://www.classiccarsforsale.co.uk/bl ... es-to-fall
I've been following market and E-Type prices pretty closely for some time, and while experts are saying one thing, market (at least in Europe) looks a bit different:
1. Experts: You can get a pampered E-Type S3 V12 2+2 Coupe for EUR 69k.
Market: True, you can get them even from EUR 50k+.
2. Experts: You can get a modest E-Type S3 V12 2+2 Coupe for EUR 22k.
Market: Far from truth, there is still junk selling for EUR 30k which is ridiculous, E-Types in horrible condition that need complete restoration and investment of at least EUR 50k just to be in decent condition; If you are lucky you can find in Canada or States some examples between EUR 25k+ - EUR 30k+ which are in decent condition but usually without any documentation, questionable history...etc.
There is an ad for E-Type S3 V12 2+2 Coupe in Europe (NL) where the guy started the ad with EUR 52k, then it went down to EUR 42k when I approached him: 3 owners (currently a Dr.) who it seems know nothing about cars and is only lucky to have money, no documentation, no history of maintenance... currently the ad is at EUR 39,95k - car is maybe worth EUR 30k.
The other thing I noticed is the French mafia how I call them :-)
I found E-Type S3 V12 2+2 Coupe in Canada for EUR 23k from a lawyer, again no documentation, no history... the car disappears from the ad in the US and it pops in Euro ads for EUR 32,9k and they don"t even bother to add more pictures or description - horrible. There are a lot of cars from US/Canada advertised in Europe by French traders with a premium price which are btw not selling because the cars have questionable history and are usually junk.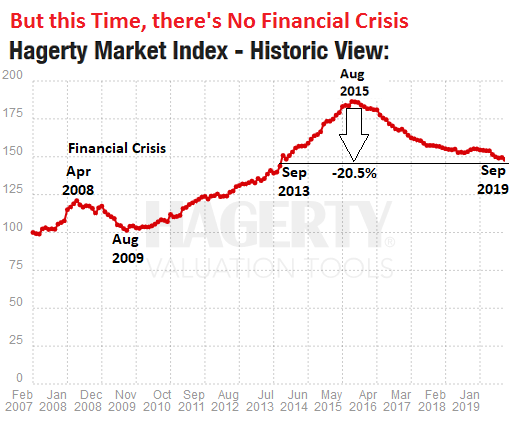 Above chart as mentioned was not affected by the "financial crisis". Looking at the current economy and where things are going at the moment I am expecting additional corrections in E-type prices (Classic Cars in general) and wouldn't be surprised that prices go back to levels from 2009. Price direction since last financial crisis was simply not sustainable.
In 10-15 years from now, auto industry will stop manufacturing diesel/petrol powered cars.
In 30-35 years from now there is a possibility that there won"t be, or there will be only a small number of petrol stations with premium petrol price... a fact that nobody is even thinking about at the moment.
Let"s see how the current global situation ends, and let"s hope, for the sake of all of us, that we avoid another great depression.
Thoughts?