Earlier this week Angus and I visited the Pilkington Classic factory at Queenborough on the Isle of Sheppey. This came about in a rather serendipitous way. I have been in regular email contact with Bud Marston in the US who is restoring an early FHC to concours original condition but the work had come to a complete standstill for the lack of a windscreen, or rather a windscreen that actually fitted. They had fitted a Pilkington screen, with great difficulty, but the following morning it had cracked. A second screen proved just as difficult although the original screen and one from a 1967 car fitted without problem. Bud contacted Pilkingtons who assured him their mould was correct but offered to make him a one off if he provided a pattern, not a trivial endeavour given it would have to be sent from California and making the mould/pattern would be in excess of £10,000. The very same day Bud and I were discussing a way forward a rather irate Angus Moss rang me bemoaning the fact it took his fitters a full day to install a new screen and the following morning it was starting to pop out. It occurred to me we might have the beginnings of a mutually beneficial plan provided Angus could find an original dated Triples screen in one of the FHC's he had in the workshop. The first two screens he looked at were US replacements which fitted well but with no provenance back to the Factory. Fortunately, on Sunday, he was able to check his totally original and un-restored 1966 FHC and it had its original and dated Triplex screen. Angus agreed to remove it, Bud contacted Pilkingtons to arrange for us to visit and Tuesday morning found us on the Isle of Sheppey for a meeting with Pilkington Classic Factory Managers Nick Gardiner and Pete Swann. (Pilkingtons own the Triplex brand).
The factory has been on this site since 1959 and has changed very little. They hold thousands of patterns for classic car glass but also make one-offs for concept cars or low production vehicles. It is a very manual process and their output is only about 50 screens a day! The process of making a windscreen requires three parts. The first is a flat cutting pattern from which the sheet is cut. There is then the metal mould which uses a system of weights and levers to gently shape the glass when it is heated. The mould is based on a wooden master pattern which is also used to check the shape before the glass is laminated. I took a lot of photos but Nick suggested I just link to their video which better explains this fascinating process - well worth watching before you read on!
We took two screens with us - the Triplex March 1966 original and a US PPG replacement, both of which easily fitted in the FHC. Pete Swann brought out the original wooden pattern and we laid the 1966 on to it. We did the same with the PPG screen. This is what we found: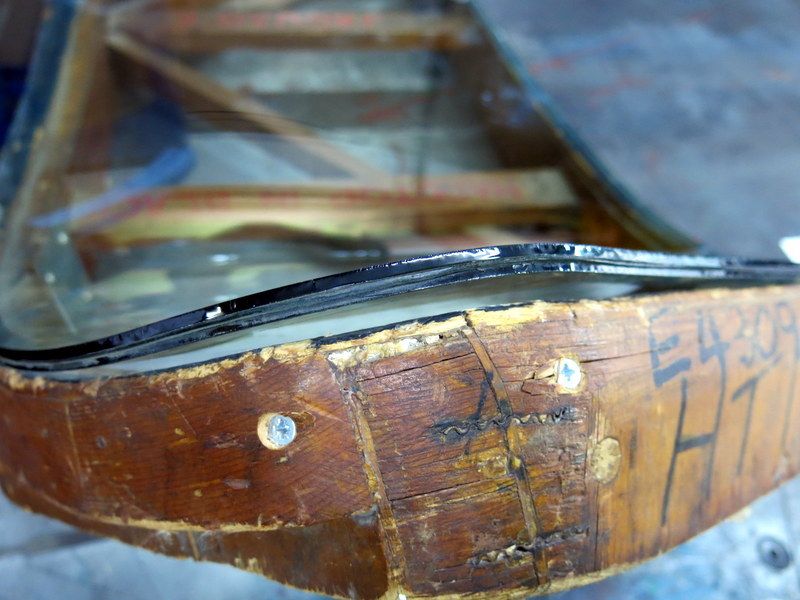 And on the mould: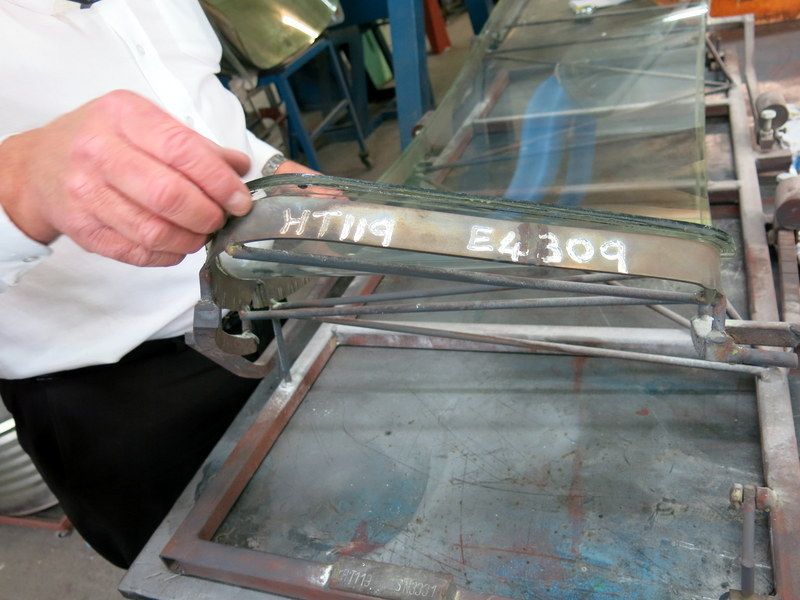 For some reason the master pattern has changed which means all screens produced from it will have had less curvature than originally specified. Angus pointed out the pozidrive screws and some metal support plates which suggested the mould may have been damaged at some point. Nick Gardiner was slightly taken aback but immediately offered to do something about it. He suggested that Angus should leave his prized original screen with the helpfully named 'Smasher', who would adjust the mould to match the screen. They would then produce a single screen to the new pattern and send it to Angus. He would check it for fit and if it was deemed correct Pilkingtons would, at their own expense, make a new wooden master pattern and issue a new part number from which we can order. These screens will have the original Triplex heritage logo in the correct place (top of screen, centred on rear view mirror) and can optionally be ordered as clear, tinted, graduated tint, heated or with integrated radio aerial. They can also provide the toughened side and rear glass with the heritage logo of your choice. At the moment they do not make the Triplex headlamp glass. The current ill-fitting examples sold by the usuals are made in China but they would like to make them again subject to having dated originals to work from.
Early logo: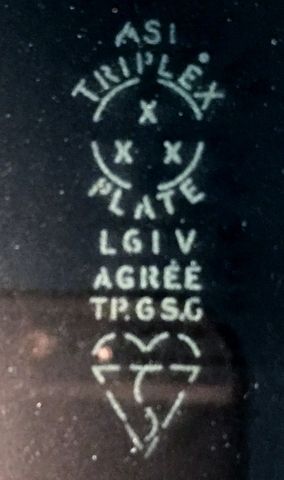 1967 logo:
Incidentally no one at Pilkingtons has any idea why the glass was originally dated as it has no known use and modern glass is not dated as a result. Nick Gardiner is trying to fast track the production of the first screen and we hope to have it with Angus in the next couple of weeks. Once Angus is happy I will publish the part number and you can order directly from Nick Gardiner at Pilkingtons Classic to whatever specification you want. While I was there I ordered two side drop glasses to replace the gawd awful ones the previous owner of my FHC had installed. You can see the logos before you see the car!
Big thanks to Bud Marston for inspiring this adventure, Angus for agreeing to cut open his beautifully original '66 FHC and Nick Gardiner and his team for reacting so positively. I will be adding a post on Triplex glass and how to identify it to the Factory Fit thread shortly