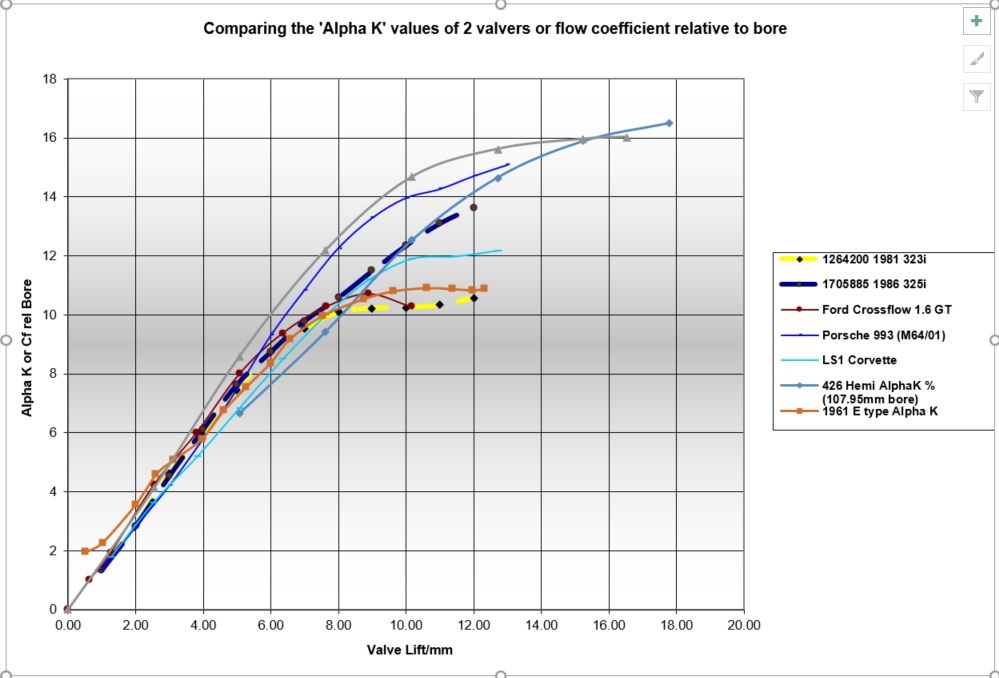 I'm an engine design and development engineer with over 23 years of experience who worked at Jaguar and the premier automotive group for 10 years, involved in the AJV8 and the Aston Martin V8 Vantage engine, amongst others. I've since been involved in heavy duty truck engines and the Indian V twin motor cycle engines, to name a few. I've always fancied turning my expertise to the classic Jaguar twin cam motor and indeed some of my old mentors told me a lot about that engine back in the day. I thought the community could benefit from some of my comments/experience
-I did some Flow bench work on the -XK head compared to other 2 valvers, some period some benchmarks from my massive archive
-Using CFM to characterize the flow of a bore is antiquated and of limited worth- it actually tells us very little
-"Alpha K" is normalized flow relative to a bore size.
-It allows comparison of various engines regardless of size
-It's a measure of how well the bore is being 'fed'
-For a two valve engine an upper value (at max valve lift of 10-12mm) of above 14% is good and towards 16% is outstanding
-From the above, normalized, the XK engine head flows similar to an original 70's BMW 323i (with it's outstanding shallow angle hemi M20 cylinder head)
-And better than a period Ford 1.6 cross flow (Kent engine)
-Porsche 993 cylinder head is one of the benchmarks for a two valve, only shadowed recently by the Gen 3 Chrysler twin spark Hemi
-426 Hemi is a period benchmark
-In its day, the 1980s BMW 325i cylinder head (shallow angle Hemi) was one of the best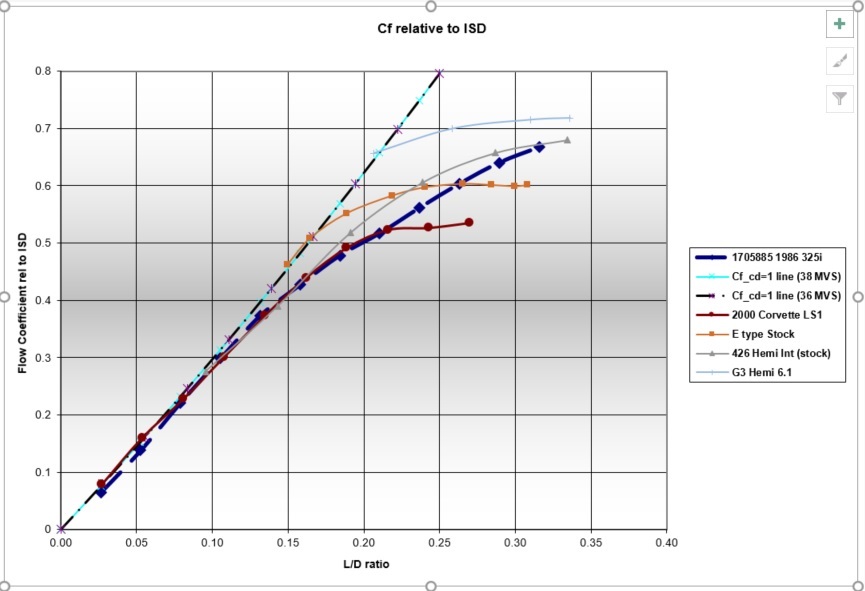 -Second plot shows data Normalised relative to inner valve seat diameter again allows valid comparisons with much smaller or much bigger capacity engines
-Valve lift has also been normalized in this plot to a ratio of valve lift to valve seat diameter- this allows us to see the C=1 line
-Cd=1 line shows idealized flow and theoretically you can't exceed this for a 45 deg valve seat at low valve lifts. If you don't meet it- it is often due to flow shrouding caused by chamber shrouding or bore shrouding (rarely the case with a 2 valve hemi engine)
-A high Flow coefficient value (Above 0.6 at 0.3 L/D) for a 2 valve shows a port that flows well
-A high flow coefficient and poor 'Alpha K' (flow relative to bore) indicates the intake valves are under sized for the bore size. I would say this is the case for the Jaguar XK engine for the bore size. This gets worse when you consider the huge stroke and the little valve having to feed about 700 ccs of cylinder
-The port flow efficiency of the Xk engine (from the 1960s) shows better than a late 1990s Chevy LS engine (much over hyped engine)
-One can clearly see here that the Gen 3 Hemi is one of the best flowing production heads for a 2 valve to date
If I were renovating/rebuilding an XK engine with my modern thinking of all I have learned I would look at the following- bigger valves- bigger than the series 3 1.875 inch, may be 2 to 2.1 inches (like the D types used), twin plugs, to allow shorter flame paths and reduce knock propensity, then raise the compression ratio, like Porsche did on the 911, to may be 10.5:1. Twin plugs allow shorter flame paths /better knock mitigation without compromising intake flow for motion to get the same effect. Even so, I'd guess that we couldn't go as high as Porsche did (11.3:1) because of the inherent favourable thermal properties of a long stroke layout leading to earlier onset of knock. I'd probably go with little 10mm plugs for packaging. I'd like to get the peak 'Alpha K' to around 15-17% and the flow coefficient to 0.73. Even so , the high long stroke would be challenging in terms of friction and vibration. Oh well, I'm not about to do a tuned XK engine and ruin the originality of my E type, but I may do one day for fun for a dyno run!