I gave a great deal of thought to 2 or 4 when I designed a whole house (yes) around the E-Type and the workshop, plumped for a new 2-post 380v Italian Werther 301AD, and I have now worked on/with it for over 5 years. I think it cost about 1.800? plus TVA, which seemed ridiculously cheap. It?s really well made and I would buy another one tomorrow without hesitation.
http://www.wertherint.com/wp-content/up ... 2lifts.pdf
It?s fitted in purpose-built
foundations
set below the surface, so you don?t trip over the chain-drive ; this kind of detail makes a lot of difference in use.
I enjoy remembering the bloody effort it all took every time I don't trip up over anything .............
The weedy studs are just to hold the woodern pattern at the right height, note the laser levelling and the angle on the pattern sides to help removal ........ did I really go to those lengths ?! And was I relieved that Werther hadn't changed the design between me relying on their plans for the
foundations
and taking delivery of the lift 6 months later ?
I?ve worked with both 2 and 4 in the past and really don?t like the hassle of ducking under the ramps of a 4-post for all side-accessing, when the very reason I want a lift is for comfort and access. I?m tall and my head is already spattered with dints.
I find the floor-space occupied by the extra legs quite a constraint when there are other cars/motorcycles/push-bikes to move around, unless you really have acres of space.
In practice, since installation, I have never used the lift in a configuration where the 4-post would have been an advantage. Funnily enough, 2-post lifts are designed to lift cars and the arms are capable of reaching suitable points on everything I?ve ever lifted ; the local Intermarch? uses six of these same Werther lifts, and they appear to have come to the same conclusion. The grovelling is a drag, but it probably takes me 20 seconds per side.
As regards imbalance horror-stories, stupid people will always manage to hurt themselves with tools and lifts are no different. I wouldn?t use one if I didn?t have a decent floor to screw it into, but no lift relies on the floor for inter-post rigidity, and the side-beams give an inherent stability which takes most of the work off the 150mm-long M16 chemically-sealed studs that are in my reinforced concrete.
Apart from undoing wheels (just lower the 2-post until they touch the floor) I really can?t see where the 4-post wins ? Jacking platform ? Buy a ?cric-de-fosse? (translation anyone ?) for 120?, probably be even cheaper in the UK
http://www.leboncoin.fr/sports_hobbies/ ... tm?ca=13_s
and you can probably make any easy adaptation that will carry your IRS
and
let you roll it across the workshop once it?s dropped ? try doing that with a jacking beam. Fast removal of the front wheels gives brilliant under-bonnet access ? how do you do that easily on a 4-post?
The height is adequate to get the Mini-van in and out - the bazooka is disguised here as a rotisserie but it?s actually ready for the Civil War that is brewing.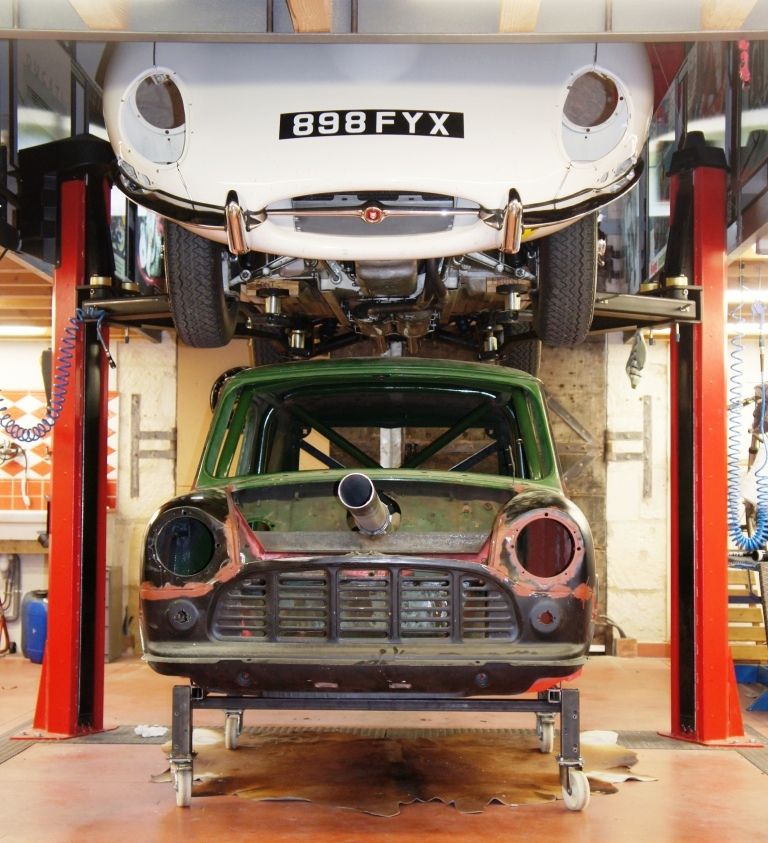 My OTS has lived up in the air for 98% of the last 5 years and stories of bent/twisted bodies (heard elsewhere) don't stack up - my shutlines are unchanged, nothing has buckled ; I just have 4 T-marks ground into the floor with a disc (and filled with paint, please) that I have to get aligned correctly when I drive in, I centre the back arms on the rubber-bush floor-mountings for the IRS links, and the front arms on hardwood blocks that sit immediately under the front diaphragm.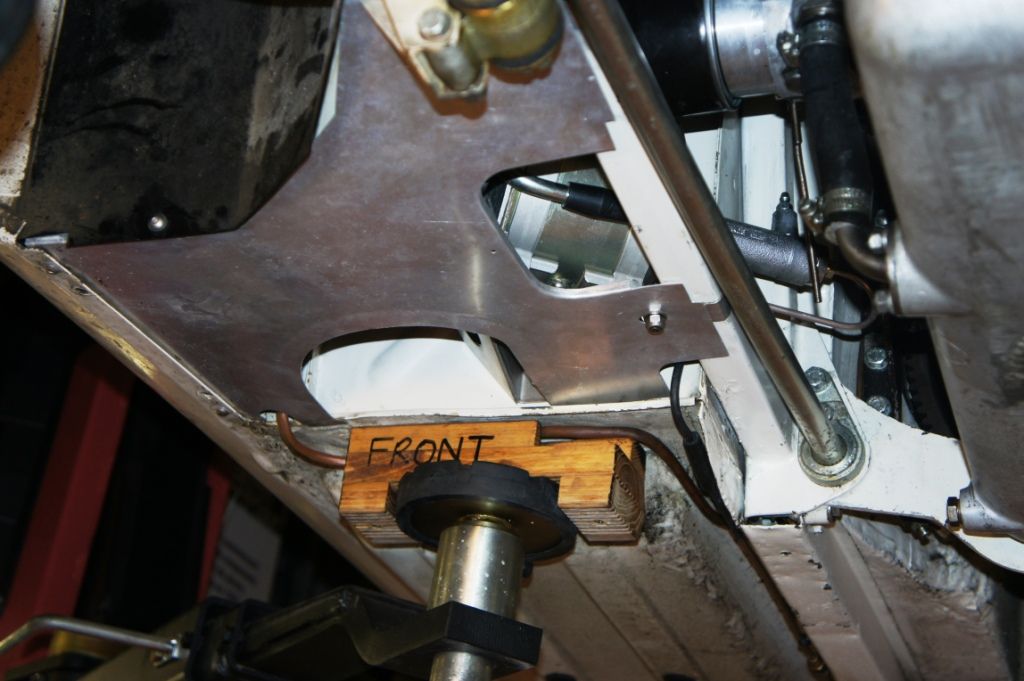 I have a friend (50+ years motor trade) who does the same thing with his OTS and is completely comfortable with it. He actually has a pair of ramps that he fits to the arms of the 2-post when he's just using it as a car-parking device, so it becomes a 2-post that thinks it's a 4-post.
Sure, the rear IRS rubbers are under tension with a 2, but then they are every time we work on the IRS and how many people genuinely take precautions in that context ? No doubt the health-and-safety brigade will now have a field day on this one.
The fact that you can move the arms around makes it great for other lifting tasks, and restoration of our 18th Century convent gates was greatly facilitated when I just had the posts in.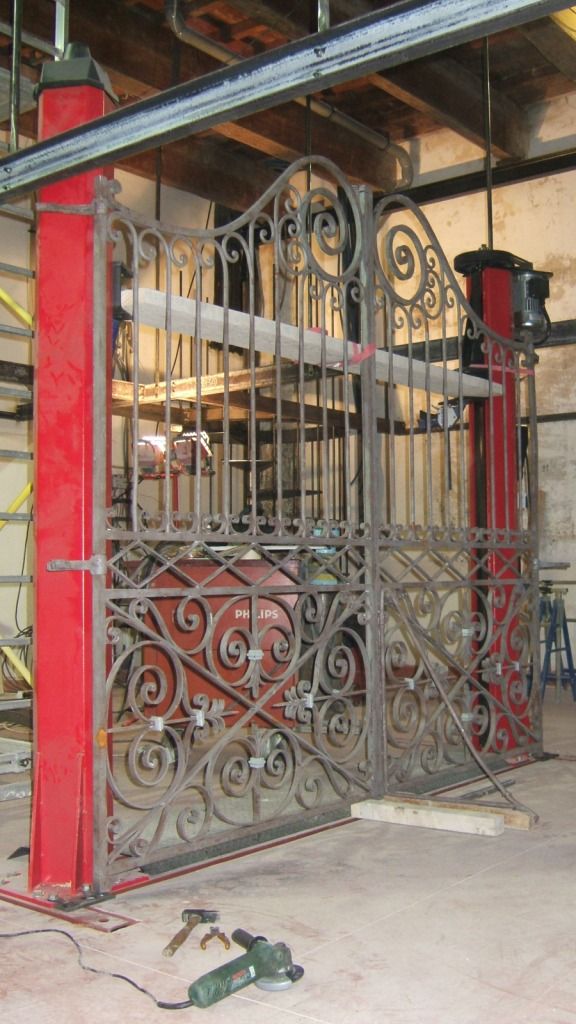 In short, I believe it is easier to work around the occasional short-comings of a 2-post than the constant short-comings of a 4-post, and there?s probably a reason why the motor-trade buys five times as many of the former than the latter.