I've finally got around to re-fitting my re-chromed bumpers so set about fitting the rubber seals.
I removed the bumpers myself before sending them off for chroming so I know they definitely had the rubbers fitted. In fact, this is the second time I have had them re-chromed and the bumpers and seals were previously fitted by the shop that did the bodywork and paint for me.
The seals are still in perfect condition so I decided to re-use them. I got the seal on the right hand side bumper without problem, using Loctite 4105 to fix it in place but when I came to do the left hand side I noticed that the bumper seemed to feel heavier than the other one. I continued trying to fit the seal but it refused to go over the edge of the bumper. On inspection I realised that the left bumper is made from a thicker gauge steel than the right hand side. I measured the thicknesses in an area where there is unlikely to be much stretch in the metal (and allowing for the paint on the inside of the bumpers) the left hand bumper appears to have been produced using 1/8" steel where the right hand one appears to be from 3/32" steel. This is enough to prevent the rubber seal from fitting on the left hand bumper edge. See photograph below.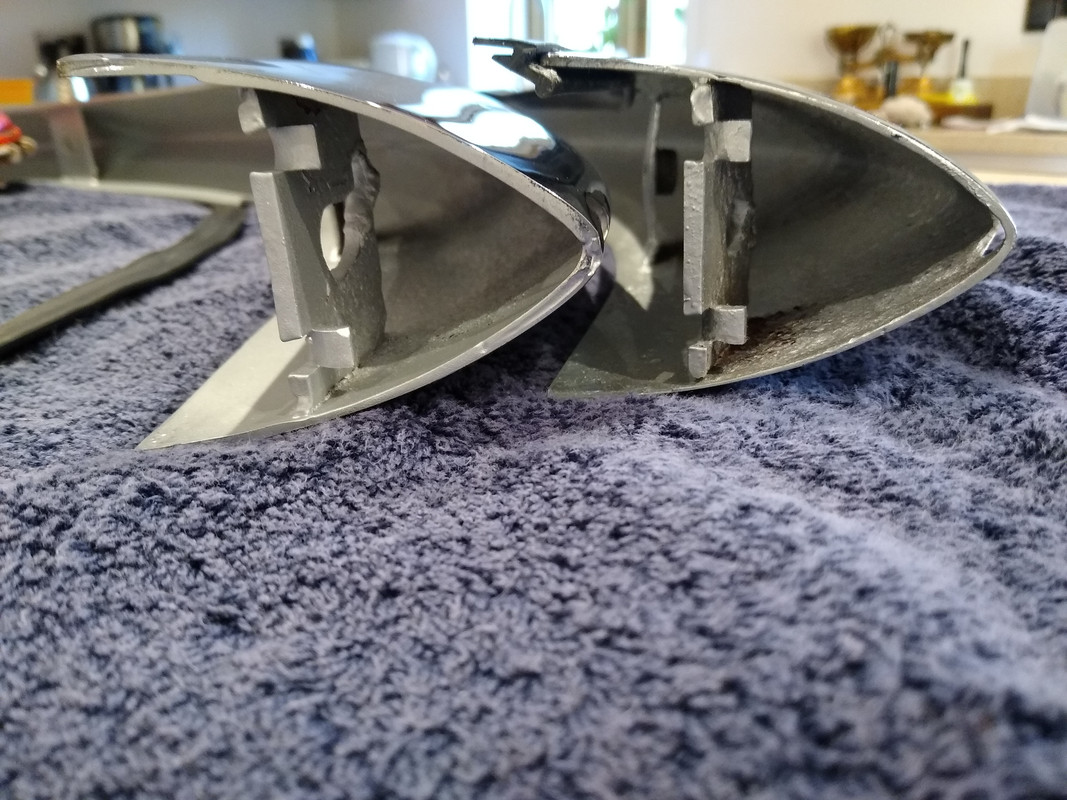 Is this a common occurrence? Clearly one of the bumpers may have been replaced at some point in time but this leaves me with the problem of getting the rubber trim to fit. I can easily order up more seals but will the replacement fit the thicker bumper edge? Does anyone here know for sure? I don't suppose I'm the first to encounter this problem. Any words of wisdom would be appreciated.
I'm not sure how the seal had been attached by the bodyshop previously, whether it had just been butted against the bumper edge rather than over it as it should be. I don't feel comfortable doing that again.
I suppose its possible that one of the bumpers got swapped over at the re-chromer's but we still have the 2 different gauge materials to contend with.
Regards