I am aware that I am taking up a little too much real estate on this board. I hope that it will slow down as I begin to work through the punch list on this restored but not driven car. Meanwhile I'm thankful for the advice and I promise to pay it forward.
I have noticed that the starter motor seems to not disengage upon starting the car. It is not so much that it is continuing to try to start the car but it just sounds like the gearing doesn't disengage from the fly wheel for the first 15 seconds or so.
A retired friend who owned a starter and alternator shop suggested that this is probably the solenoid. Either it is faulty or it is continuing to receive voltage.
The car has all new wiring harnesses which is nice but the previous owner did a fair amount of carelessness with electrical tape when making connections. One such thing that I noticed was that there was a strange stand alone wire going to the starter solenoid and it was connecting inside the car in a Y with the white/yellow wire on the starter relay. It is very clear that this wire didn't belong there and it was routed rather poorly and probably was a reasonably good fire hazard.
I reviewed the wiring diagrams for the starter and for the starter relay and it appeared there was no need for this extra wire. However upon removing it the car will not start now at all.
My starter motor has the 12 V wire coming from the battery and it has the White Red wire coming from the starter relay.
This picture points to where the standalone wire was connected. So basically it made a jumper connection from the white yellow wire at the starter relay to the starter solenoid.
At the moment I am wondering if I have a problem at the ignition switch, the fuse block or if the starter relay is bad.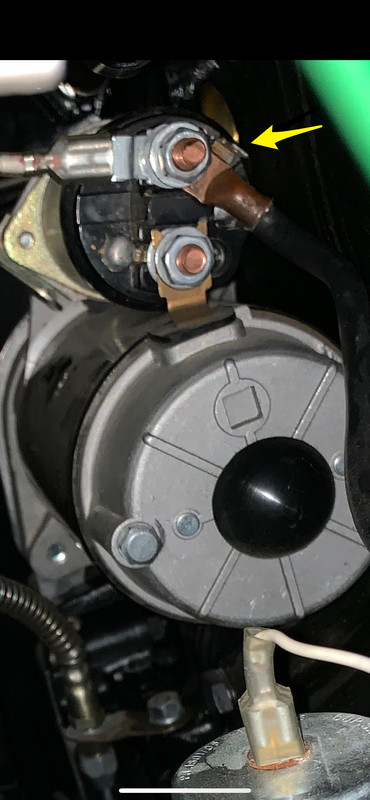 Thank you as always
Anthony
69 FHC