The v12e service and parts manuals show only one type of carb and bypass valve, unless there are different parts and service manuals?
Seems there are two types of bypass valves that differ in every way, function/purpose design, construction and maintenance. For id purpose I'm going to refer these as Type 1 ('cos I think it was 1st) and Type 2 (the type I've got). Type 2 is the one in the service/parts manuals (that I have). Here is my interpretation, most of what I say about Type 1 is assumed from comments by others, hopefully with assistance and correction there can be broad understanding of this completely redundant technology …
Type 1 does not have external vacuum assist. Type 2 does have external vacuum assist. Here is pic of my Type 2 with stub pipe for external vacuum connection.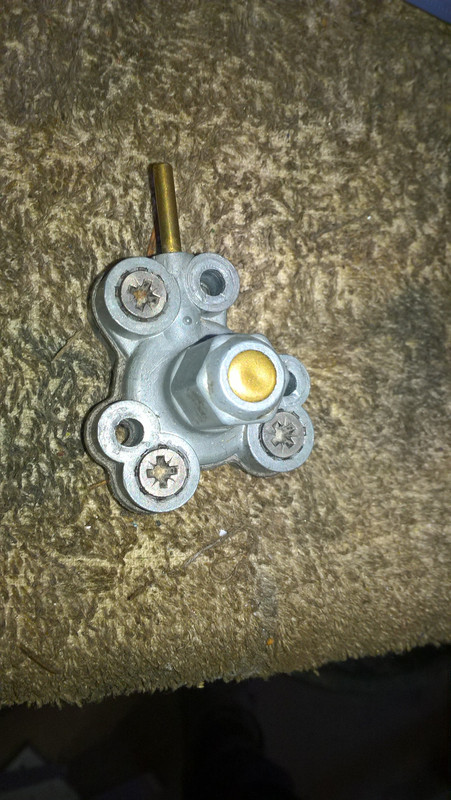 For Type 2, the tubing for the vacuum assist is a potential source of vacuum leaks. For some reason this tubing goes via the same temperature controlled vacuum switch (part C37430) as the vacuum supply for the distributor retard. I don't understand this, in any case the vacuum switches are NLA.
Type 1 has external adjustment screw (under the brass plate). Type 2 does NOT have external adjustment screw, it has internal adjustment screw, it is the last thing to take out when u dismantle, to adjust a Type 2 u must remove carb, dismantle, adjust, reassemble, reinstate carb, test, fail, repeat … The service manual says about Type 2, there is no non-factory adjustment, even to fix a torn diaphragm, u need to replace the entire bypass valve.
Type 1 and Type 2 have different mounting gaskets. Here is pic showing that one type has an opening between the inlet and outlet ports allowing a permanent bypass of the throttle plate. When u order gaskets (from SNGB or Burlens) if u are not specific, 50% of the time u get sent the wrong one. Having different gaskets on different carbs makes it IMPOSSIBLE to balance yr carbs. I believe (not certain) that the gasket with the opening is for a Type 1, the other (black in this pic) is for Type 2.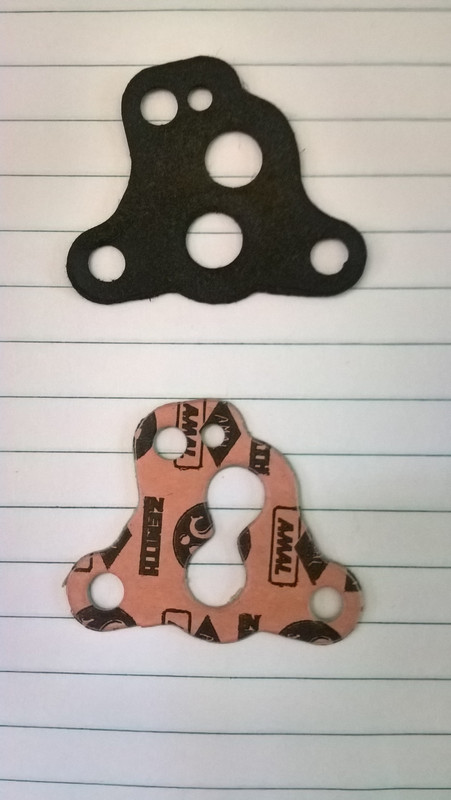 Type 1 and Type 2 valves have different weight springs. Type 1 has the stronger spring, Type 2 has a pissant spring. With Type 2, dismantling and screwing the adjustment screw in to the max, for strongest spring tension, is not enough to prevent a valve opening at idle vacuum. Usually only one opens, this makes balancing yr carbs IMPOSSIBLE.
Type 1 function/purpose is an "anti-pop" valve, it is to prevent backfiring when decelerating hard. Type 2 is for venting the carb chamber between the damper piston and the throttle plate under the same conditions and more, it is an emissions control thing. If u have Type 2, your car would also have a large "gulp valve" (C34018, mounted off the throttle cable capstan, NLA) that performs the "anti-pop" function. Means if u remove yr Type 2's u must retain yr Gulp Valve. Fixing gulp valves (perished diaphragm) without vacuum leak is not easy, can be done. Cars with Type 1 don't have or need gulp valves.
If u have Type 2's: Remove them, fit blanking plates, fix yr gulp valve. Smash the bypass valves to gravel with a sledge hammer, blast the gravel to dust with an oxy torch, feed the dust to yr dog, shoot the dog.
If u have Type 1's: Check the diaphragms and gaskets are ok, externally adjust as per any advice on the internet, drive smugly off into the sunset.