Currently upgrading my V12 to HE, EFI, by swapping heads and pistons and a new ecu. Hoping to set new records for cleanliness and efficiency. Question is, should follow Marek and convert to LPG?
I really like the idea of dedicated LPG (no petrol) liquid phase injection (LPi). Petrol tank and pump replaced by LPG tank and pump, petrol injectors replaced by 12 LPG liquid-phase injectors (Vialle), each controlled sequentially by new programmable ECU.
Potentially improved performance. The last cars built in Australia included dedicated LPi Fords, they are quite impressive, out-perform their petrol counterparts. Reason is the liquid injection. Upon injection the change of state (liquid to vapour) absorbs heat, lowers the temperature and increases the density of the intake charge, i.e. you can pack more in (very high volumetric efficiency). Also, liquid can be precisely metered, not possible with vapour injection, so LPi can be significantly more economical than earlier generation LPG systems.
The LPG LPi synergies with HE V12 seem good. Jaguar really pushed the limits with the design of the HE, consequences: highest quality 98 octane fuel is essential; engines can overheat; relatively dirty engines, pic shows the as-found conditions inside the rocker covers of my 70k mile e-type engine and 90k mile XJ12S3 HE engine.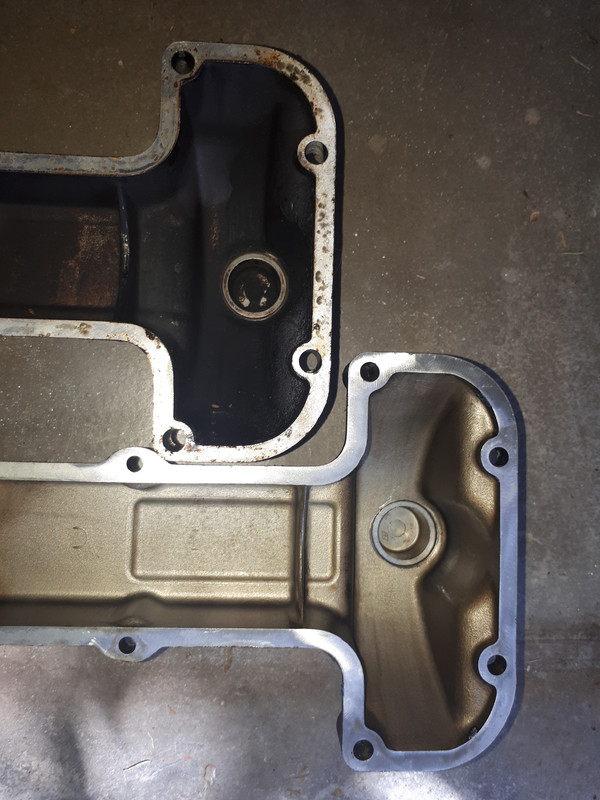 With LPG LPi these limits disappear; LPG octane rating is over 100, the phase-change cooling effect prevents overheating and unlike with petrol, oil is not washed off the cylinder walls, there is less blow-by.
Other benefits: the fuel is naturally cleaner, negligible particulate matter and CO, a lot less HC, less NOx and CO2, I would not need catalytic converters to achieve socially acceptable emissions.
Then there are the disadvantages:
Slower to start, fuel system needs to be primed to > 30 bar before engaging the starter motor. Maybe much the same as now, having to wait for the fuel pump to stop ticking.
Petrol lubricates valves to a degree. LPG does not. The Ford LPi engines had different top piston rings and valve seats. Dunno how our Jaguar items compare, I would like to think that "lean-burn" HE engines would be up to the mark ...
Range would take a hit. My car (US emissions spec) could manage 450 km between refills. After the current HE/efi mods + OD I would be hoping for 650 km if petrol. If LPG, with the biggest tank that would sort of fit after removing the petrol tank and losing the spare wheel, range would be maybe a tad over 400 km.
Biggest concern is the apparent unpopularity of Autogas (LPG) meaning the number of service stations that sell the stuff is reducing, so the rumor goes? There is an app that locates all the Australian Autogas service stations. I am trying to find out if it is kept up to date, including removing any stations that stop selling it? No luck so far …