I can't see any previous posts relating specifically to the shape of OTS door glass.
Mine are at least 30 years old, but I suspect that they are non-original as they don't fit very well, and they have no kite-marks anywhere - if that means anything ?
Has anyone any experience of buying new ones please ? I'm happy to get some made but making a template is a lot more fraught than I'd imagined, and I might try a standard one first.
The story regarding these began nearly two years ago :
http://forum.etypeuk.com/viewtopic.php?f=3&t=10352
I really grasped that there was something wrong with them (see above, post #17 onwards) when I realised that there was nothing wrong with my hood, and wrote :

HOWEVER, having had the doors in a million bits until yesterday, I was unable to check the overall shape of the hood assembly with relation to the door-glasses, and this has thrown up a Real Cold Shower - hence the Two Steps Forward, Three Steps Back comment.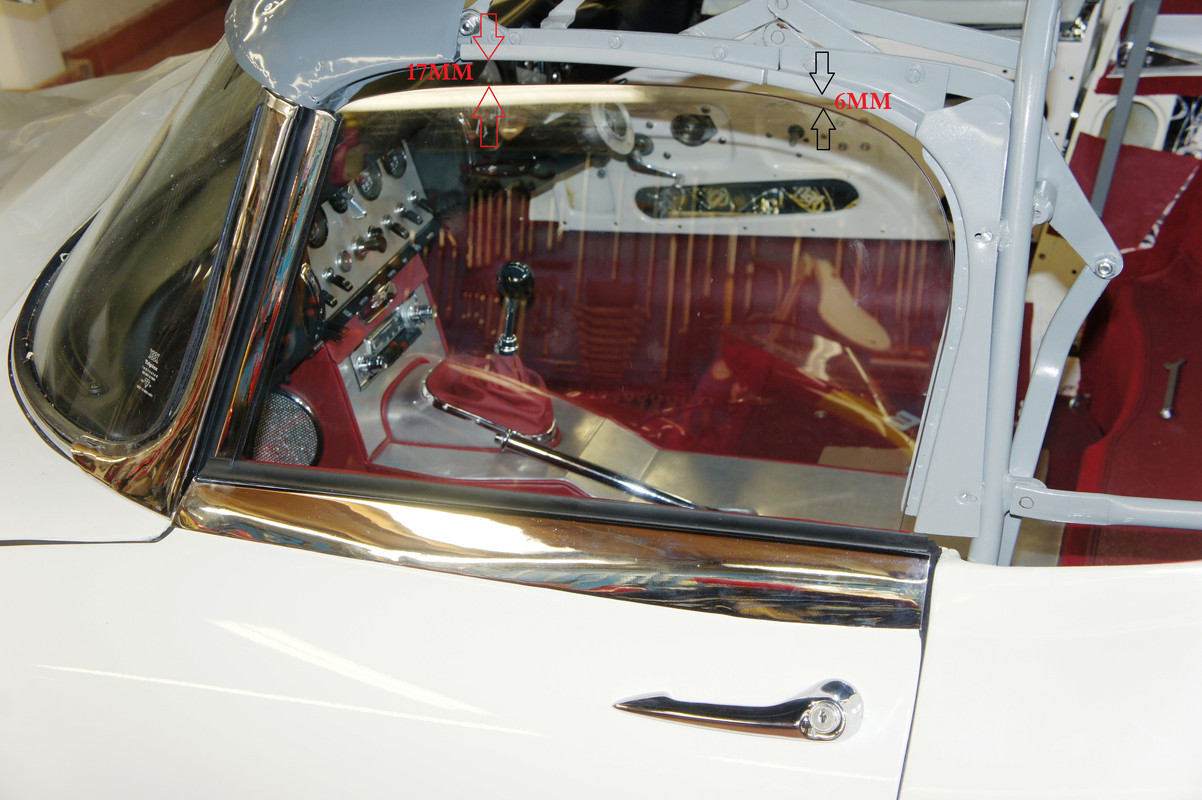 It's taken me over a year to pluck up the courage to have another go at this, especially as it means stripping down so much stuff that I'd hoped was finished.
By placing a steel rule at regular intervals, whilst inside the car, against the glass, it's possible to construct a profile of what shape the glass would need to be to touch the cantrail rubbers along its whole periphery.
Or an approximation of full contact, as the segments are inevitably a bit irregular.
As you can see, the current door-glass is way off what is required - the thin zinc sheet is my first attempt at a template.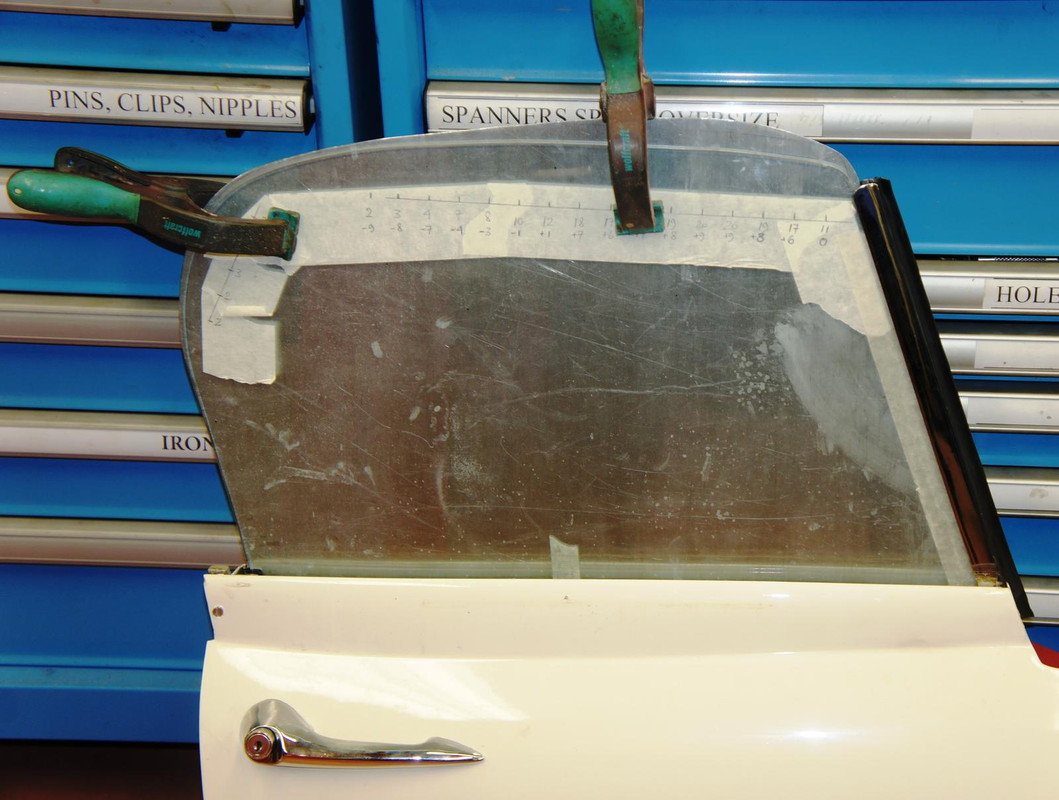 As I had some height adjustment in hand down below, as it were, the actual increase in height required at the highest point is only 9mm, but elsewhere my current glass would need taking lower by 9mm in places, so the sum 18mm disparities give me a hopeless fit overall - with all the noise, draughts, and water ingress that you can imagine.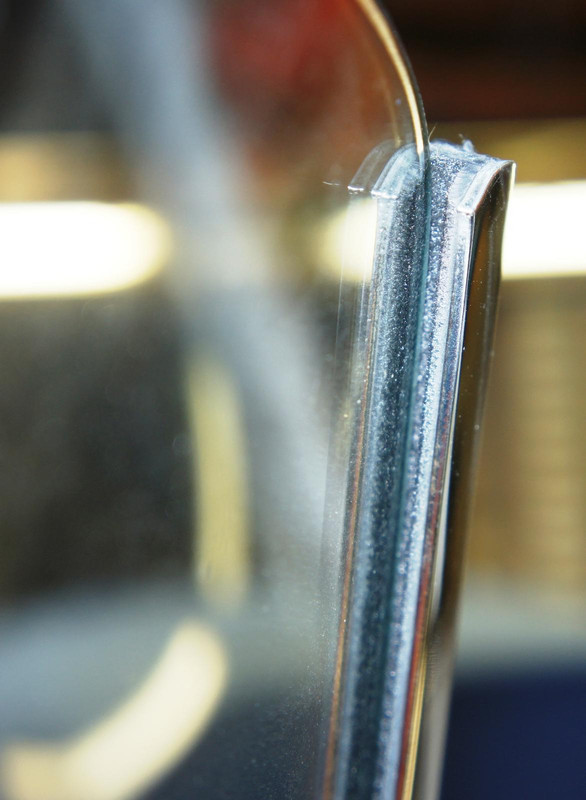 A further issue is the one of thickness of the glass ; mine are a tad shy of 5mm, and this gives at least a 1.50mm gap in the felt-lined groove of the chrome upright, which makes them floppy and door-shutting sound rather naff. The chromes are original, and the trim is new and from an informed source.
Could someone wiser than me do some measuring and comment on glass-thickness and fit ?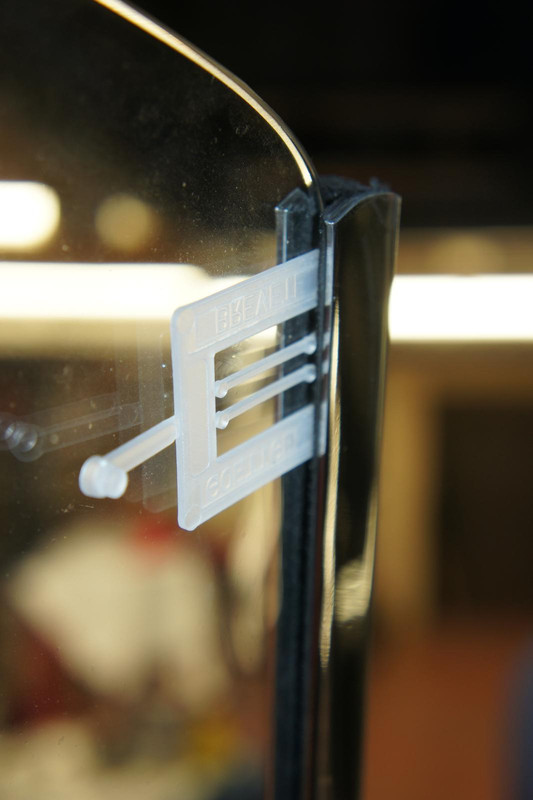 Last of all, my glasses appear to be too short, as there is an apparently consistent absence of depth all along the front edge where the glass goes into the chrome-upright slot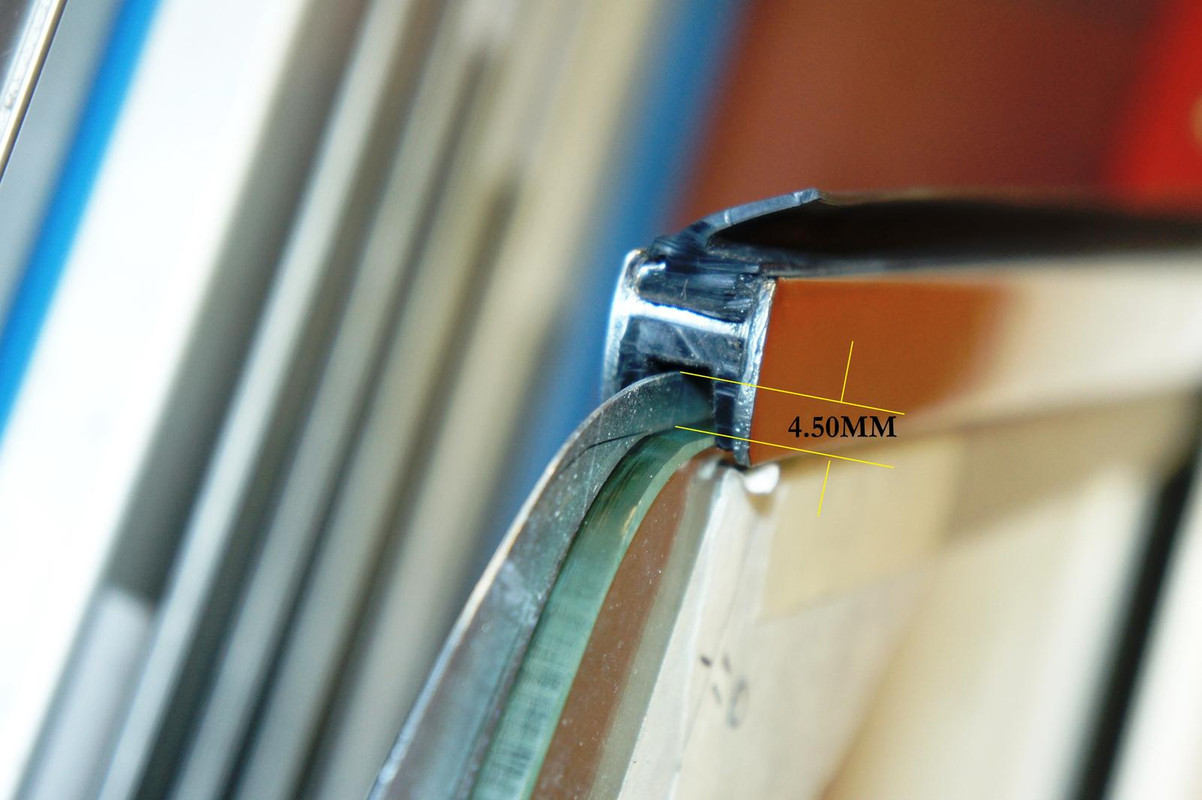 Any advice that anyone who has been down this route can offer would be very welcome, and might help others too, as this kind of detail makes the difference between cars and is - I suspect - something that restorers often only discover when they assemble a multitude of parts that they thought were the final assembly, only to discover ............