Anyone know why the lower half of my lenses are painted white?

Phil
---
---
No one has come up with an explanation as to why:
---
---
The attachment you enclose states Series 2 on top but you are enquiring about series 3?
I have checked my parts manual and there are only White or Amber shown and no combination mix.
I'm wondering if people are fitting these to S3's from S2's?
Adam
S3 V12 E Type FHC Manual 1972-owned since 1978
---
---
It's a UK original car, series 3 with what appear original lenses ( amber top half and white paint? on inside lower half)
---
---
Hi....can you post photos inside and out.....is it paint or powdery deposit?....Steve
Steve
1969 S2 2+2 & Building a C type replica
---
---
Posts: 177
Joined: Sat Nov 08, 2014 9:52 am
Location: Annapolis, USA
I'm pretty sure I have seen lenses with amber and white vertically divided. My US lights are vertically divided but the socket for the outside white parking light was blanked off and only the dual filament socket used.
I decided to have white parking lights and amber indicators as well as the deleted side marker lights integrated into the front indicators.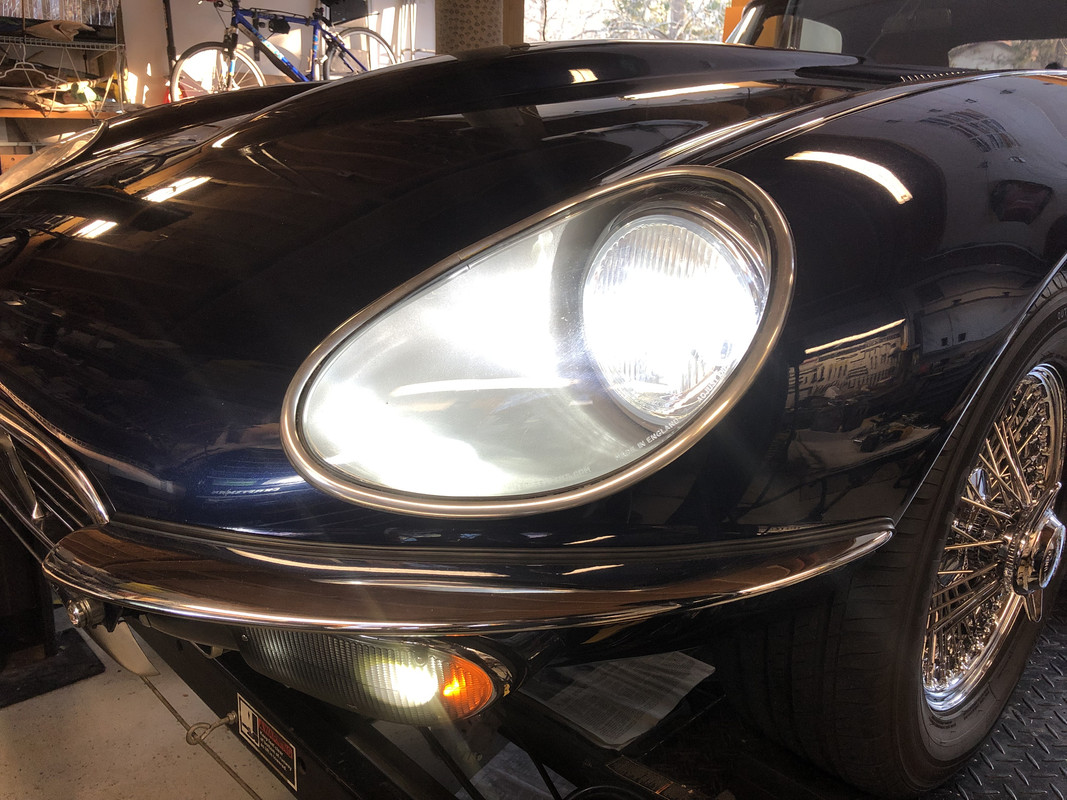 Grey lenses and covered headlights by Marek.
1974 SIII E-Type w. XJ S2 4sp w. O/D
---
---
Marek is probably the best source of information on this:
http://forum.etypeuk.com/viewtopic.php?p=59789#p59789
This is all that is in the S3 SPC: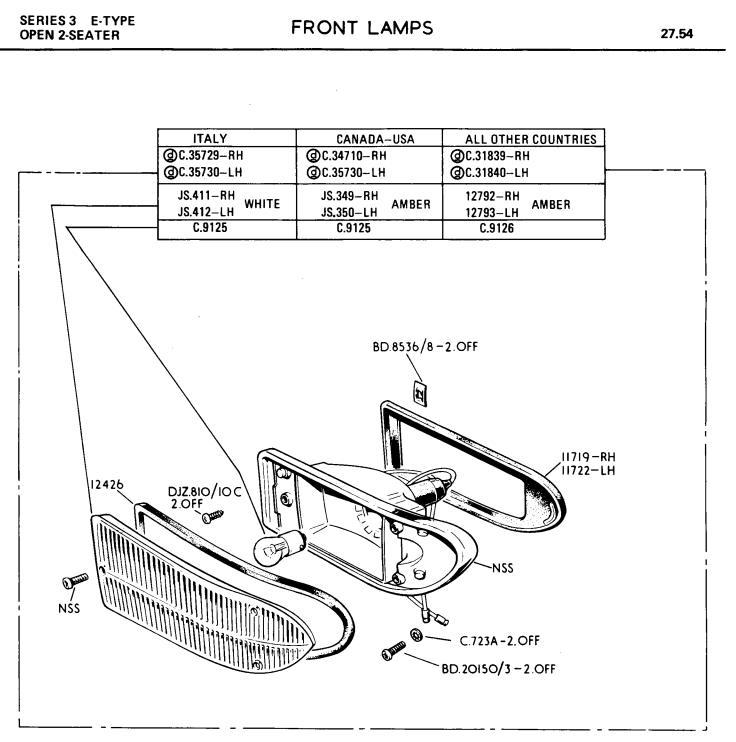 The 1973 Lucas catalogue lists all the lens variants but no description of the differences: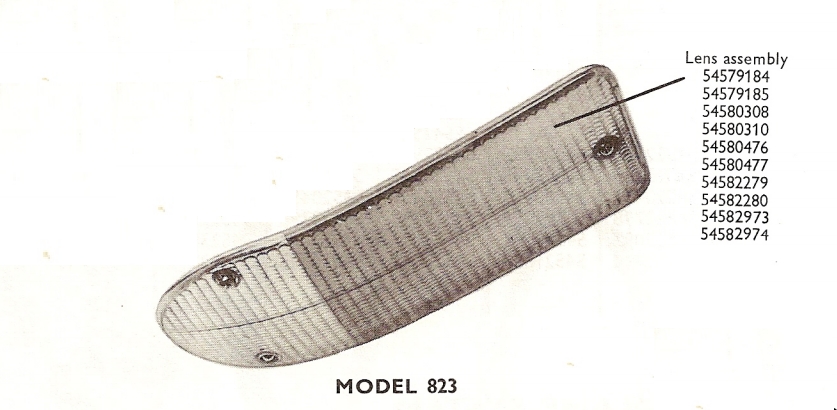 ---
---
If the lower half is blanked off could it be to get round a minimum legal height requirement of the time? Might be more likely on US spec cars but the form lists it as UK spec.
(Post comes with the caveat that I recognise much more knowledgeable people are present here)!
Paul
'68 Series 1.25 2+2
---
---
USA cars all yellow. Interested in a different look, contact Marek......he is the best !

JJ
---
---
Current UK legislation for cars built after 1989 is for the minimum height to be 35cms and the s2/3 etype front indicator placement falls right down the middle of this.

My hunch is that this is an XJ12 question, in that one wants to look at the height of the XJ12 front indicators and work backwards. I suspect it's a Lucas compatibility issue between the XJ12 and etype, but perhaps not for all markets.

On the XJ6/12, the same indicator lens appears nice and high above the bumper. On the etype, it is mounted below the bumper.

The XJ6/12 front indicator is well above the horizontal centre line of the front tyre but the etype has the front indicator right down the middle line of the tyre. By blanking off the lower half when fitting the same lens to the etype, the indicator appears above the centre line of the tyre, that being 30cms.

I purchased s2 indicators at Stoneleigh one year (when Pete and I used to run a stall). These were boxed Lucas items which were blanked off on the lower half and two stamps with "E11 - 6121" & "E11 - 7128". My 1974 US spec s3 came with all orange front indicators which were not blanked off on the lower half - they are marked "E11 - 6121" & "E11 - 7128". Interestingly, when you look at the bobble pattern on the inside of the glass, it is quite clear that the lower half (but only as for as the indicator goes, not the sidelight portion) has a different bobble pattern to the rest of it and I suspect this is what would have been blanked off, were the inside to have been painted with silver/grey paint. That suggests it isn't a euro-thing, as I also have a non E marked one which is not blanked off.

I suspect there was a proposed change of law pending sometime during the etype/XJ6/12 production run such that the height of the indicator had to be fiddled on the UK etype, but the XJ12 was unaffected. By having replacement lenses which were blanked off, the minimum height restriction could be satisfied without retooling anything.

kind regards
Marek
---
---
---