The International Jaguar E-type Register Directory of Vehicles & Owners is a handy glovebox size hardback book published by the Jaguar E type Register of the Jaguar Drivers? Club.
This has been produced every 5 years and the last one was the 8th Edition for the 50th Anniversary of the Jaguar E Type in 2011. It is a hardback book produced to a high quality like an upmarket diary with gilt edged paper and contains details of the 6,000 E types on its Register and in the various sections the cars are detailed and cross referenced showing the Chassis number, Year, Registration number, Colour and Owner, (if these details are supplied). I have the past three editions for the 40th, 45th and 50th Anniversaries and was looking forward to ordering a copy of the 55th which would have been due out in 2016.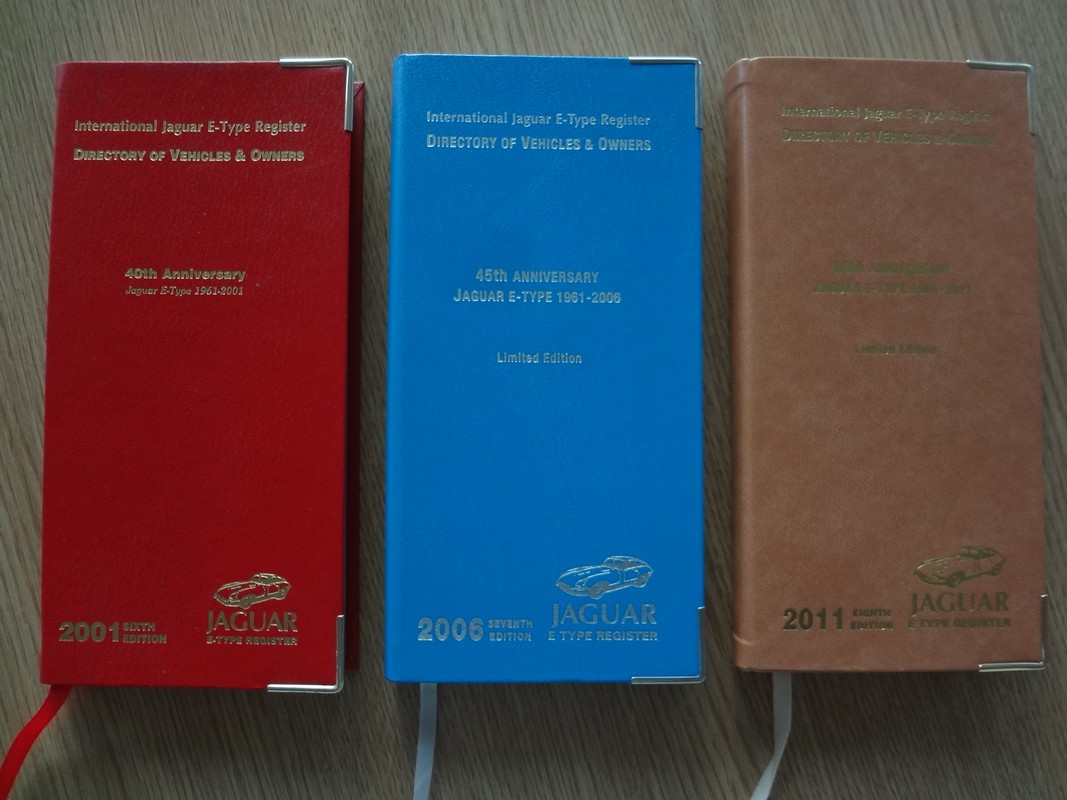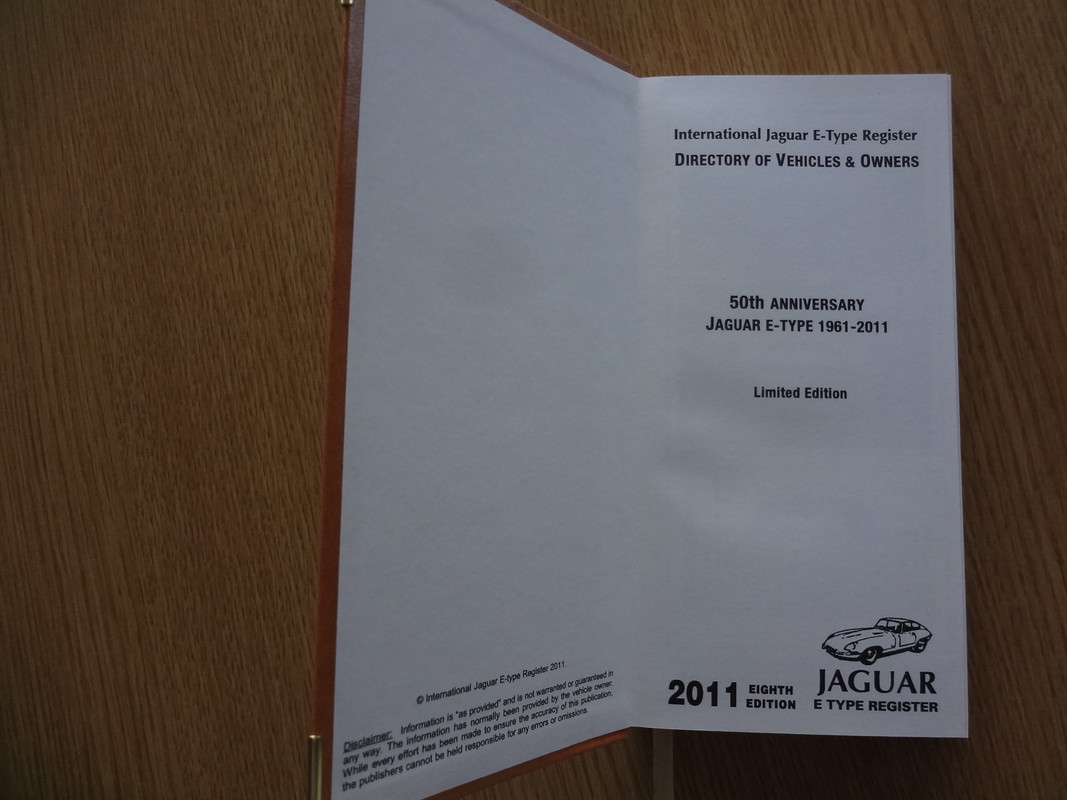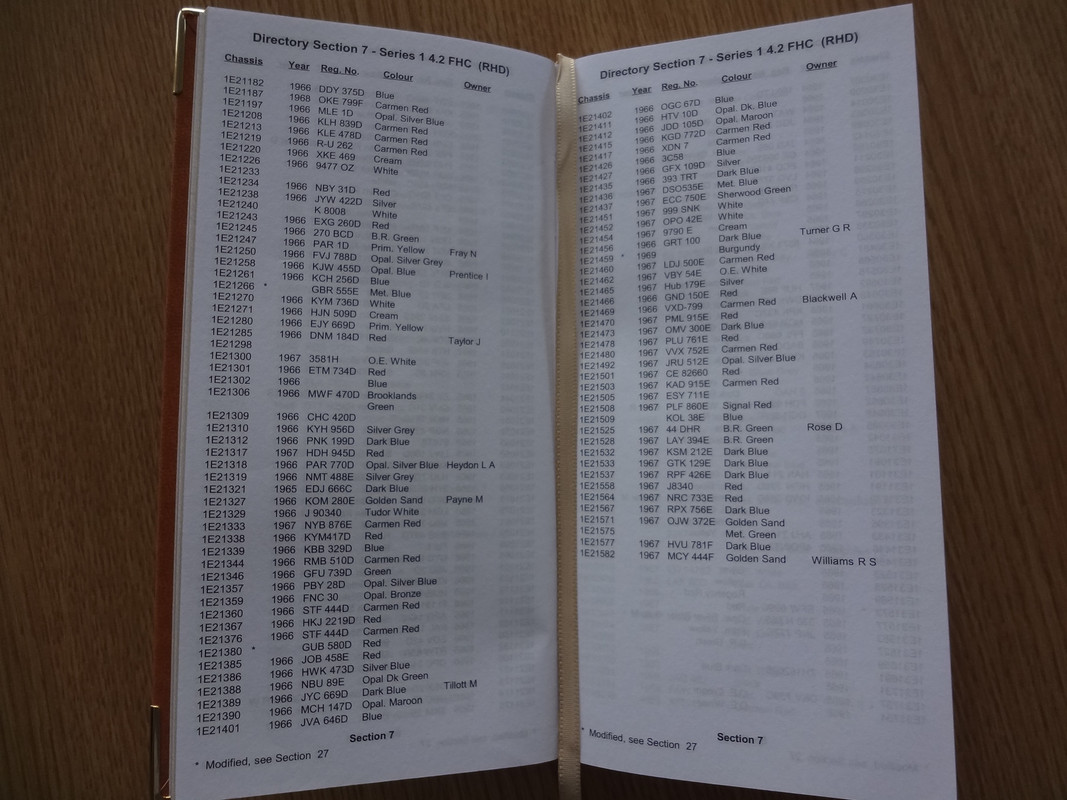 I had been in touch with the Registrar, Petronel Payne earlier this year and she had hoped to send out details of ordering the next edition this summer. On mailing her last night to ask on progress following her intent to gather orders this year, I received the following reply :-
"You are perfectly correct, however there have really been insufficient of E-Type alterations that we have been told about that we have decided that it really wasn't worth the work and expense of producing a new directory at this stage. Things have woken up a bit lately and we will definitely be producing something for the 60th Anniversary in 2021. Many thanks for your interest."
This would be a bit of a shame to break the 5 year cycle and have to wait 6 years until 2021. Entry into the Register is free and you, like me, don't have to be a member of the Jaguar Drivers Club to register your car details. I understand in this modern age there are other web based registers and information available, but this well presented book provides a good historical reference for owners over time and in future years, details can be traced back. The book also contains several Chapters on the history of the E type and the last three Editions have included reprints of five Autocar articles on the E type.
If you were interested in registering your car and getting in the next edition, or hopefully encourage Petronel to get an edition out next year, this is this link Register and to the Vehicle Registration Form with her details.
http://www.jdc-etype.org.uk/index.php/e-type-directory
I have no allegiance to this Register or the JDC, but just wanted to keep a useful reference going.
Regards,
Dave