Today I had the opportunity to visit Stan Swan at GB Classic Trim who did the interior of my FHC for the previous owner and everybody comments on what a superb job it is. Stan started working for Jaguar in the trim shop at the age of 15 and continued there into the 1980's. He has a wealth of knowledge about all things Jaguar and has some fascinating stories to tell. For example all cars initially went down the line with the customer name on the build docket until Sir William discovered the workers were upgrading and adding freebie extras to cars destined for their friends! The practice was immediately stopped apart from on one car, destined for Sir William himself.
Stan left Jaguar after becoming disillusioned with the way the company was running and set himself up as the 'The Trim Centre' until selling the company and retiring 10 years ago. He found retirement a bore and was encouraged by a fiend to set-up again, so he founded GB Trimming Ltd of Nuneaton. They always try to have four cars in the shop with one nearing completion, one mid way through, one just starting and the fourth next in line.
When Angus and I were up with Ken Verity we were both hugely impressed by the hood on an OBL OTS he was working on because it is one of the few we have seen that fits properly - the decorative chrome trim on the hood perfectly covers the windscreen top surround just as intended. Stan did that work! Stan reckons an E-Type takes 145 hours to trim to the standard he wants. and has things like the hood bow made to his specification so he can trim it down to size. He said Jaguar had three sizes of hood available and simply found the one which best fitted each individual car. The vinyl roofs and hood bags were introduced for the American market because of complaints the mohair was fading in the sun. We also talked about the new Connolly Vaumol leathers which are now available, albeit at a price - ?600 per hide, about 2.5 times the cost of a normal hide. When you see, touch and smell it side by side with the normal leather though you realise it is worth every penny.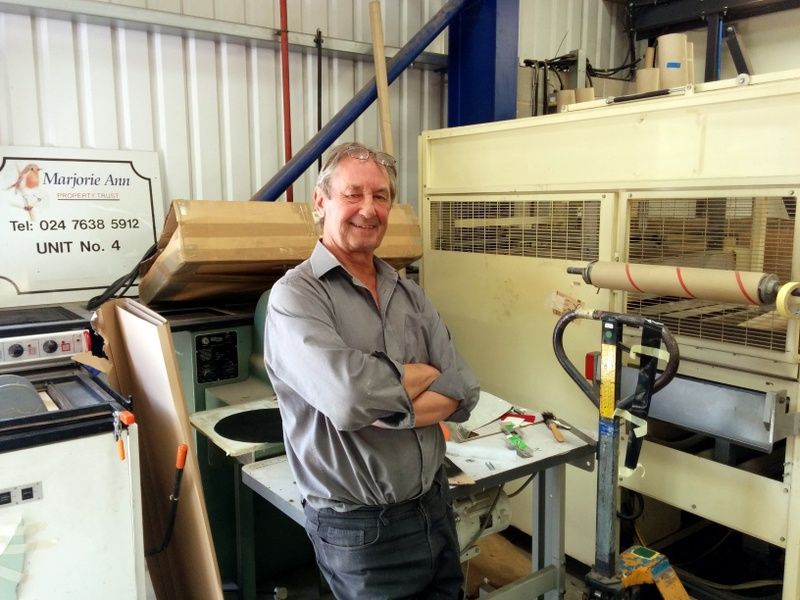 If you are in need of a new interior, a hood or some interior parts (Stan does not sell trimming 'kits') :
http://www.gbclassictrim.com/