Factory Packaging
This is from a 1965 OTS with 4,777 miles bought from the original family owners. In the boot were clear plastic bags which held the Jack, Tool Roll, Convertible Top Cover, Passenger foot rest and Thor Hammer.
Measurements are:
Top cover bag - 12" x 31"
Tool roll bag - 20" x 30"
Footrest board bag - 20" x 30"
Jack Bag - see picture as it is an irregular shape:
This is the second car (see earlier in the thread) where have seen with evidence of the plastic bags: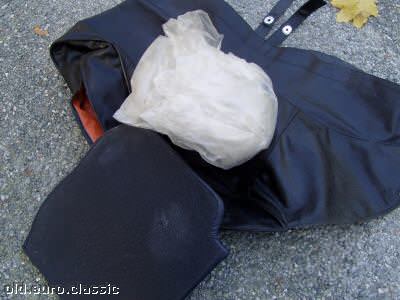 I have no idea when Jaguar started putting the accessories into plastic bags or whether it was just for export cars to prevent deterioration during the sea voyage. More research required.
Thor Mallet
The Thor mallet had a cellophane/oil paper envelope over the head to prevent rust. This mallet can be identified as from mid 1965 production as the foil THOR sticker was changed at this point from 'HAMMERS & MALLETS' at the top and 'MADE IN ENGLAND' in the bottom sector to 'THOR HAMMER • COMPANY' with 'SHIRLEY • BIRMINGHAM • ENGLAND' in the bottom sector:
Note: Modern Thor hammers do not have the '&' between Hammers Mallets but are otherwise indistinguishable.
Many thanks to Steven Anderson for supplying the photos.