What I've learned about water pumps; here are pic's of the pump impellers discussed in this post; Aftermarket/early Jaguar/late Jaguar = left/centre/right = top/middle bottom.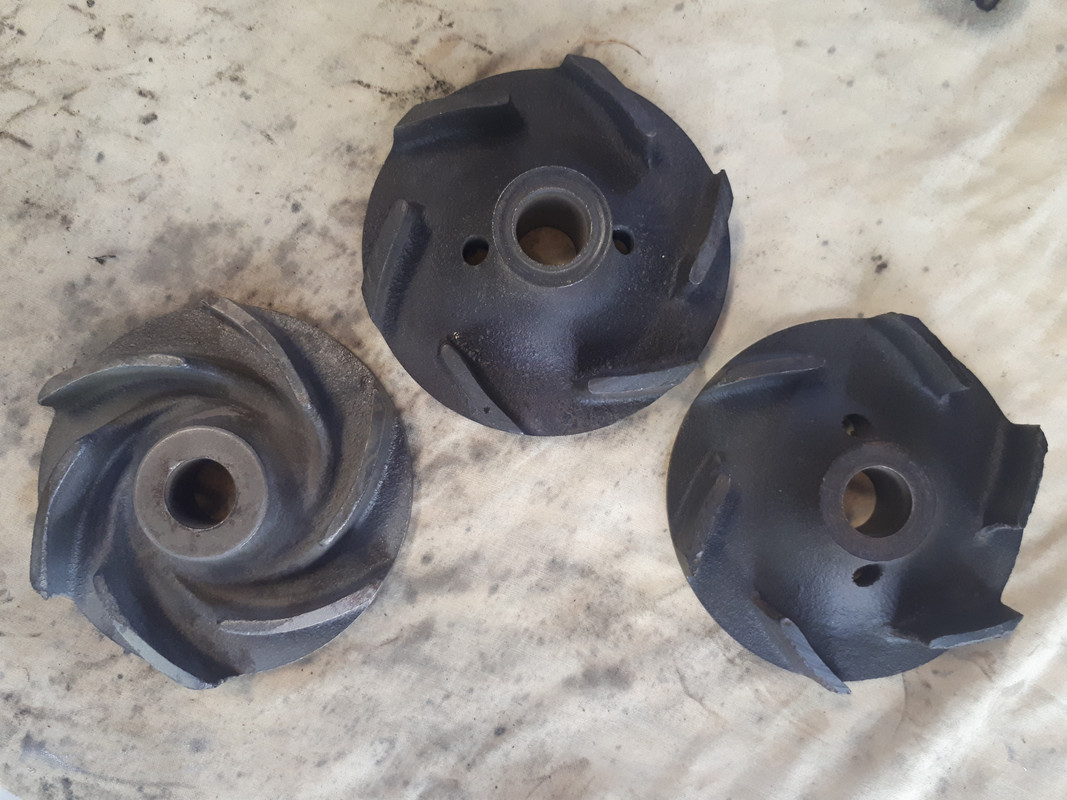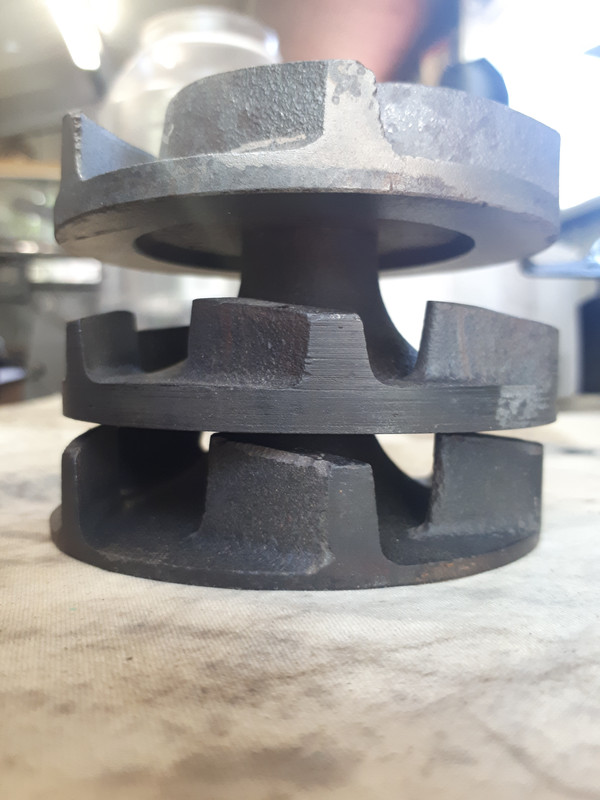 The aftermarket is now mostly what is available, originally from East Coast Jaguar, now also from SNGB. SNGB product code is C36363 notwithstanding that it is different to the OEM impeller with this number. It is marketed as "new, improved", imo it is not. Chunky, with restricted flow passages, with vanes that protrude to upstream of the shroud that will cause it to work more like a washing machine than a pump, i.e. the following pics, the first is with the aftermarket impeller, the second is with a genuine Jaguar impeller: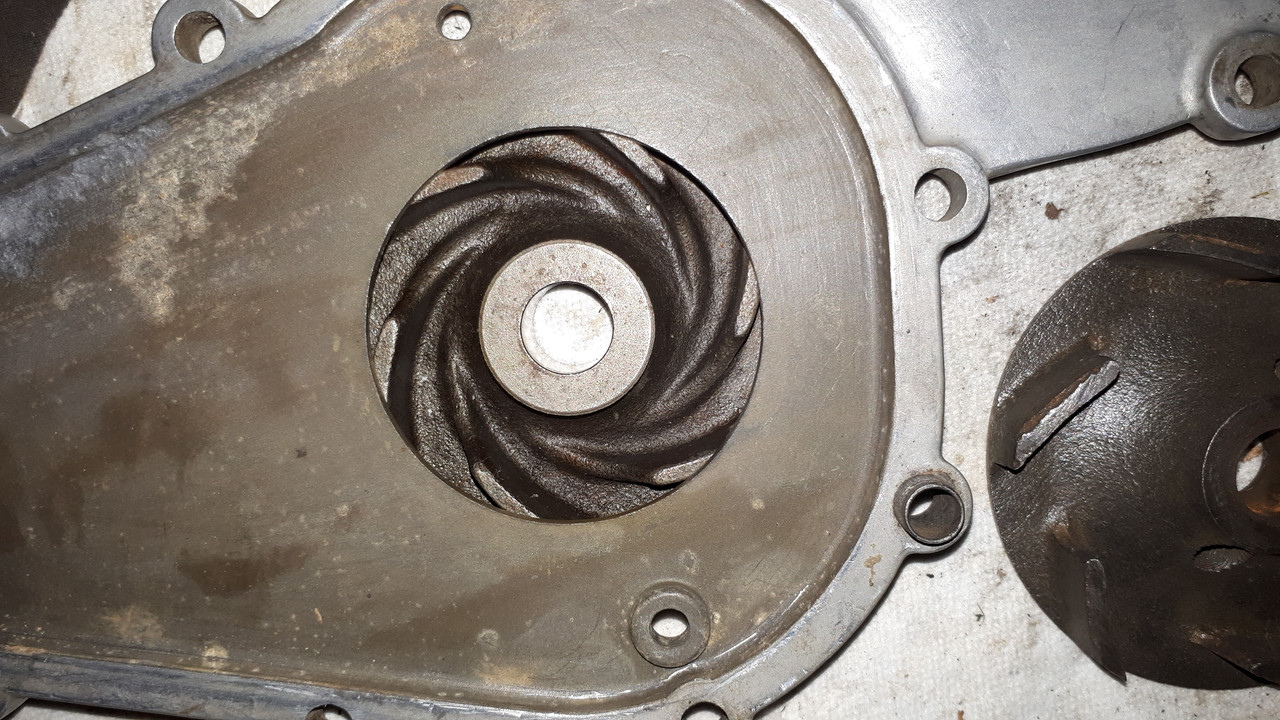 Imo net result is the aftermarket impeller will have the lowest flowrate and may be prone to "choke" (very reduced flowrate) at higher speeds. I have been using one of these aftermarket impellers (gentle road use) since 2015 with no issues whatsoever. However, if motorsport is yr thing and overheating is an issue, you may find that a genuine Jaguar impeller would be an improvement.
The 1st (early) Jaguar impeller was quickly superseded. Seems (?) this impeller never had a unique part number and was never sold separately by Jaguar. It is 34 mm high. The nose of this impeller served as the contact surface for the ceramic seal, being relatively soft the cast iron nose was prone to wear (1st pic), causing leakage from the shaft vent hole. Setting the impeller and seal is critical which may (?) be why the parts were never sold separately, only as a complete factory assembled pump.
The later Jaguar impeller was in the pumps fitted to engines numbered from 7S7785. It has part number C36363 with C36363 (or P36363) stamped on the back of it. It is 21 mm high. Flowr passages are maximized, there is no excess metal. From HE engines onwards the impeller part number was EAC3212. Seems there is no difference between C36363 and EAC3212 impellers. The late Jaguar impeller pictured above, with C36363 stamped on the back, is from an HE XJ12. Imo this later Jaguar design is the preferred impeller.
Early pumps have shorter bearings and housings, incl. to accommodate the longer impeller, i.e. early (left) and later (right) bearings: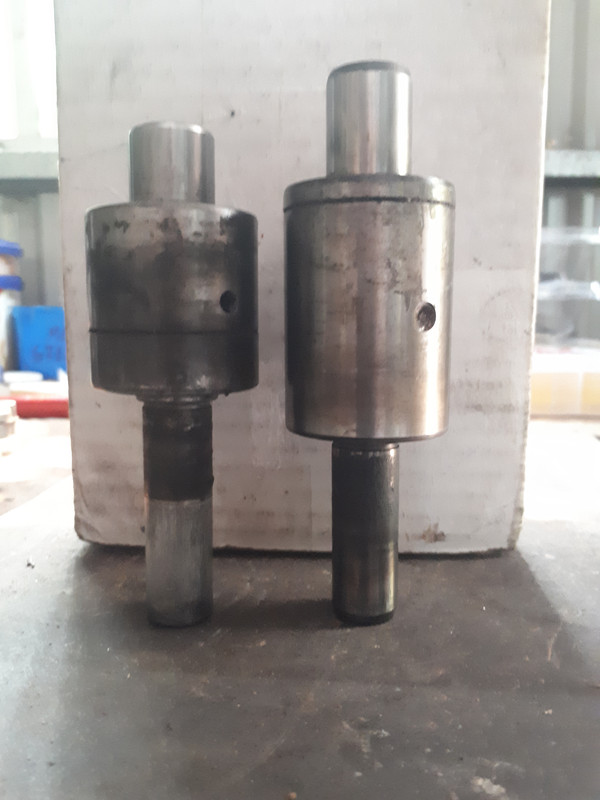 The later impeller can be fitted into an early pump if a different (non Jaguar) seal is used.
Because of the different length bearings and housings the early and late pump v-belt alignments are different. Just means you cannot simply swap whole pumps without considering belt alignment/interference issues.