Hello S3 Owners,
I've restored quite a few S3 E Types over the years; accordingly, I've handled each and every part of these cars many times and as a result, there aren't many, if at all any, parts I couldn't say exactly where they assemble.
Recently I was looking in an S3 Parts Catalogue for the part number of a particular parts of the front suspension, when I noticed that part number C15376, is shown as existing at each end of the fulcrum shaft and 4 off are required for the assembly of both wishbones. (see the washers indicated in the following picture)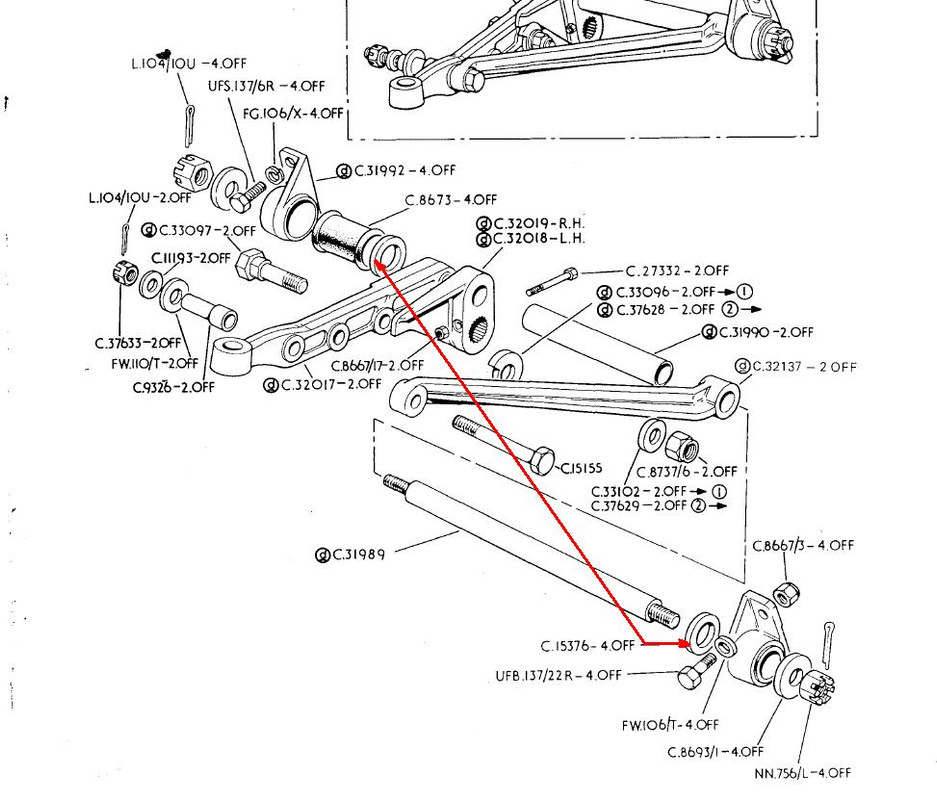 Of all the S3 cars I've laid a spanner on, I've not seen a single car that has the forward washer included in the assembly.
When the nut at each end of the shaft is fully tightened, all components, excluding the Rubber Bush Housing, are drawn up firm with each other and therefore, any addition or omission of parts inboard of the rubber bushes will affect the pitch between the two Rubber Bush Housings.
Out of interest, I assembled a Lower Wishbone with the two C15376 Washers in place to see the result. To attach the Lower Wishbone to the Engine Frame and Picture Frame, the Lower Wishbone must be assembled and with the second C15376 Washer included, there is no way that the two Rubber Bush Housings can be attached to the frames. Removing the front washer fixes the pitch between the two Rubber Bush Housings and allows attachment to the frames to occur.
Notwithstanding that I've handled many of the Lower Wishbone assemblies and I'm firmly of the opinion that the Parts schematic is wrong, I would appreciate owners of S3 cars to look at the Front Rubber Bush Housing of the Lower Wishbone and report if your cars have a 3mm thick washer (or any washer) between the inboard end of the Rubber Bush and the Lower Wishbone Lever face (part number C32017). No dismantling is requited for this examination, just lift the bonnet and eyeball the area of my interest.
Regards,
Bill