I just wonder how many SIII OTS RHD with manual gearbox where made, and how many 1971.
SIII Roadster 1S1043
---
---
Posts: 3134
Joined: Thu Jun 19, 2014 3:08 pm
Location: Near Andover, Hampshire,in D.O. Blighty
According to Clausager:
1790 Total; 209 in 1971

But can't see any numbers for manual vs auto gearbox

Geoff
S2 FHC Light Blue
S2 OTS LHD - RHD full restoration
---
---
Thank you,
Can´t be many still out there. :)
SIII Roadster 1S1043
---
---
Of the 1790 RHD OTS produced 496 were autos, but for the number of manuals out of the 209 made in 1971, contact Faye McLeod, the Archivist at the Jaguar Heritage Trust Archive, British Motor Museum, Gaydon.
All the e-type build records have been transcribed onto a computer database, so this sort of breakdown should be readily available. Last year when I wanted to know how many White and how many Willow Green S3 LHD 2+2 autos had been produced in Nov 1971 I got an answer back the same day.

Am I correct that you have had the car a long time? Have you restored it? From the chassis number it is an early one, probably I think produced in Sept 71, so would have some of the very early features such as "short" handbrake, unpainted oil filler cap with a knurled edge, two hole rain shields and the Jaguar name cast into the cam covers. Very difficult these days to find unrestored cars to see what was original and what is now not.

Bob
Bob
'71 S3
---
---
Posts: 618
Joined: Wed Jun 24, 2009 10:59 am
Location: Canberra, Australia
Mine is No 11 - Aug 71. Has the features mentioned.
1971 Series 3 E-type OTS
1976 Series 2 XJ 12 Coupe
---
---
Yes I have had my car since 1975, got it from Hexagon Motors in May 1975 Reg. MWR112K.
And yes it has short handbrake and the other stuff.
But I put it in storage September 1977 then there came wife, house and kids, so it has been stored in my garage since then.
I managed some small rust issues when i bought it and did a repaint otherwise original.
I´m now planning to convert to LHD saving all RHD parts as I think it has greater value as RHD if sold.
I have LHD dash parts, steering rack and some small parts already.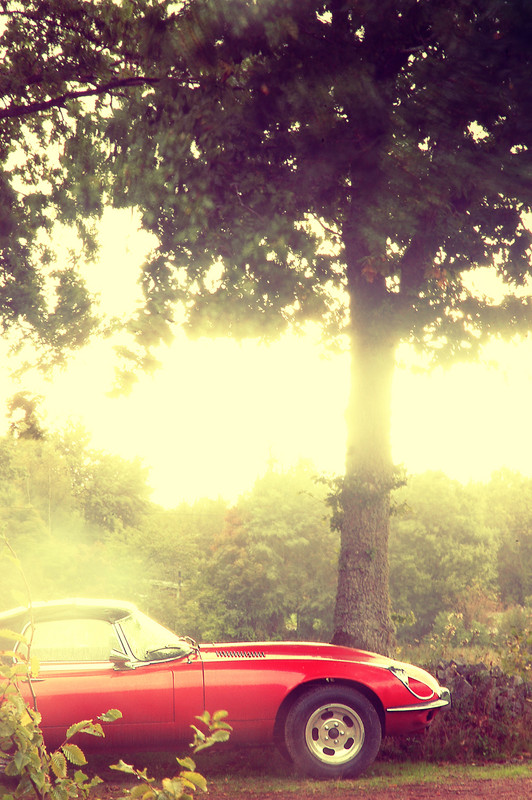 SIII Roadster 1S1043
---
---
Nice period features - Wolfrace? wheels and bullet door mirror.
At least you are not burdened with the complexity of all the vacuum operated emission equipment fitted to US and later non US cars. Good luck with the recommissioning, plenty of knowledge here and on Jag-Lovers if you need help. Keep us posted.

Bob
Bob
'71 S3
---
---
Posts: 3134
Joined: Thu Jun 19, 2014 3:08 pm
Location: Near Andover, Hampshire,in D.O. Blighty
In the knowledge section you'll see information for converting from LHD to RHD, I'm sure you'll be able to interpret it for the RHD-LHD process. Can't think of many people who will have done that.

Geoff
S2 FHC Light Blue
S2 OTS LHD - RHD full restoration
---
---