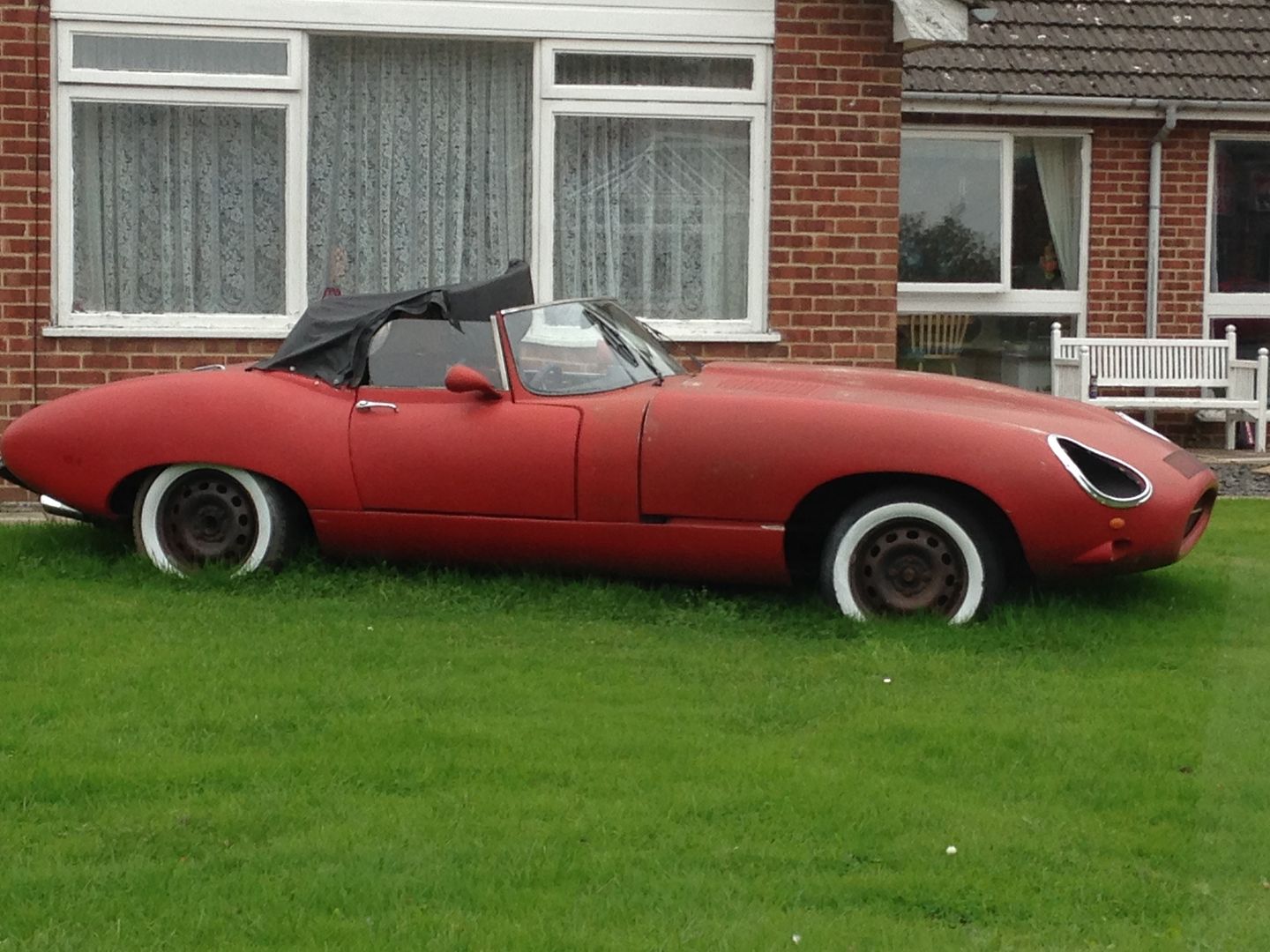 ---
---
I think it might be a JPR Wildcat.
Neil
1962 S1 OTS
1967 S1 FHC
1967 S1.5 FHC
---
---
Yes I'd second that....fiberglass body on a tube frame....A few weeks ago I saw half of an old one sticking out from a tarp......In an old farm yard.....first thought was that I had a great find....but sadly not...
Steve
69 S2 2+2 (just sold) & Building a C type replica
---
---
Posts: 15
Joined: Tue Nov 20, 2012 11:06 pm
Location: Sweden
Contact:
I remember seeing one of these at Beaulieu Auto Jumble in 1989 or 1990. It was built on Ford chassis Components. I can see that the car on your photo has Ford Wheels. It is a kit Car/Replica. I was surprised to find a replica of an E-type in 1989. Why buy/build a replica when you could buy the real thing for reasonable money?
---
---
Posts: 52
Joined: Fri Jul 08, 2011 12:20 pm
Yes it is certainly a JPR Wildcat. The door handles are the same used on the Wildcat, as well as the front indicator lights being below the bumpers rather than above. I think this is currently for sale here:
http://www.carandclassic.co.uk/car/C666164
Yes it's not in a good state, but there are a lot of Wildcats that look really nice. Nothing wrong with them IMO.
This is also a Wildcat, built all from scratch by the present owner:
http://www.madabout-kitcars.com/images/ ... coupe6.jpg
Last edited by
Jaguar_Man
on Sun Oct 25, 2015 5:49 pm, edited 1 time in total.
---
---
Posts: 653
Joined: Fri Sep 19, 2014 2:13 pm
Location: Norway
Wow, not bad at all! Would've fooled most, for most of the time!
David
S1 2+2 '67 MOD conversion (going)
S2 OTS '70 (arriving)
---
---
Posts: 4456
Joined: Fri Mar 05, 2010 8:22 pm
Location: Gaithersburg, Maryland.
Contact:
I you're going to build a fibreglass replica the Triple C Challenger is better. All the E-type brightwork and most running gear fits. Triple SUs are a 'challenge' but as it's light fibreglass a good twin carb engine will pull very well. You can use E-type dash parts on Chellengers, which helps offset the large ugly trans tunnel that spoils both replica types and the Realm D-type and XKSS too.
1E75339 UberLynx D-Type; 1R27190 70 FHC; 1E78478; 2001 Vanden Plas
---
---